A few weekends ago I took a trip to Quito, Ecuador and was subjected to the displeasure of the newest addition to the TSA's anti-terrorism toolbox; The full body scanner.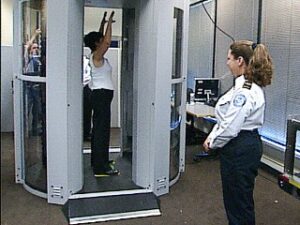 The full body scanners do exactly that, they scan the entire body, through the clothing to produce a near naked image for a TSA employee to ponder over before letting the traveler go about their business.
There is only one such scanner currently at IAH and it is in Terminal E.
On the day that I was flying, the traffic through Terminal E was light so everyone was being subjected to the full body scan. There was no signage anywhere explaining what the scanner was, people were just being directed into the device and told to "raise your hands in the air".
Knowing what the machine was and what job it performed, I let the agent know that I would "opt-out" and preferred the personal screening. I assumed that this would be done like it has always been done, behind a screen out of the public eye. Nope, not this time. The pat-down was more thorough than a doctor during a physical and was performed right out in the open in front of everyone walking by.
This is unacceptable, plain and simple. It was quite obvious that they were trying to test the machine during a lull in the crowd and were using the pat down as an embarrassment tool to persuade me into going through the machine next time.
We are sacrificing our freedoms in the name of security and it's irresponsible.
Next time, I'll just go through Terminal C and avoid the unwanted feel-up by the TSA.