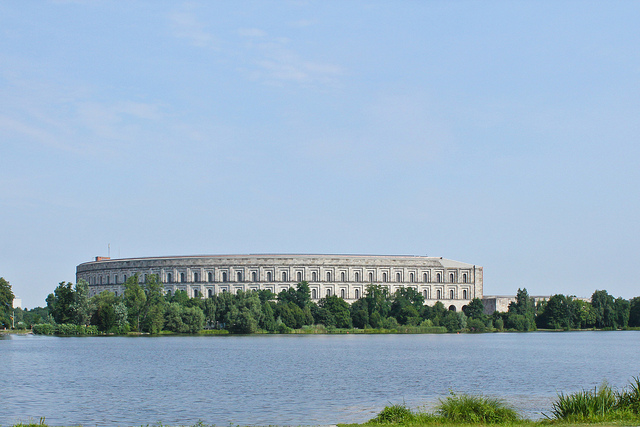 The NY Times piece on what is happening to the Nazi sites in the historic city of Nuremberg is a look into the conundrum of up-keeping history while not honoring it.
In this city, the rallying point for Hitler, is the largest piece of real estate bequeathed by the Nazis, and a burden only increasing with time.

First comes the sheer physical size: a parade ground bigger than 12 football fields. A semicircular Congress Hall that dwarfs any structure at Lincoln Center. Great Street, more than one-and-a-half miles long, with no structures on either side — a modern Appian Way where the storm troopers strutted between the old Nuremberg of Albrecht Dürer and the rallies idolizing the Führer.

Then there are its troubled history and the far stickier question of what to do with it. "These are not simple memorials," said Mathias Pfeil, chief curator of historic sites in Bavaria, "because they symbolize a time we can only wish had never happened."
I have visited Nuremberg quite a few times and the Nazi sites always strike me as a strange intersection of history, hatred, and remembrance. Last time I visited I was with my dad and grandfather and there happened to be a heavy metal festival taking place on the site, with Metallica being the headliner. It was strange to hear metal being played as you read about the horrors of the Holocaust. During my second visit to the city, I even wrote in the caption for this photo about the strange dichotomy at the Nazi rally grounds.
Hitler stood here multiple times to give speeches during Nazi rallies. On this particular day it's being used for a children's marathon. The German people are torn on how to use these landmarks, they cannot be forgotten, yet they should not be glorified.

So where is the line between teaching younger generations about the atrocities committed in the name of the Third Reich and glorifying it? The story touches on the fact that most Nurembergers under the age of 25 have no historical context with which to view the rally grounds. They have always been there during their lifetime and associated with nothing that resembled war or struggle.
If you do visit Nuremberg, the Dokumentationszentrum Reichsparteitagsgelände (Documentation Center at the Nazi Rally Grounds) is a fascinating and sobering look at how the Nazi party took hold in Nuremberg, Munich, and finally Berlin. The center also tells the story of the Holocaust, the eventual loss by Germany, and the Nuremberg trials. It is on the site of the rally grounds and you can walk around them after visiting the exhibit.