In January I took a trip to Europe to meet up with some friends and tour the Airbus factory in Hamburg, Germany. Also on the agenda was a trip to Miniatur Wunderland, a model/RC world that has multiple regions, including an airport. Right around the time I was planning this trip was when United announced that their Newark-Hamburg flight would be changing to a seasonal schedule. The flight would disappear from the winter rotations two days before my departure.
My backup plan was to fly Portland-Chicago-Munich-Hamburg. For the return, we would be riding with a friend to Berlin and I would take Berlin-Newark-Chicago-Portland as my routing home. I put Chicago in on the return because it got me home a few hours earlier, though it turned out to almost be a really bad decision (more on that later).
United recently started rolling out their Polaris "soft product", or their onboard service, and even more recently have had their plane with the new seats flying some domestic routes. I had the opportunity to try both the Global First version of the Polaris soft product as well as the business version.
The day before I was set to leave, Portland experienced a record snowfall, making the city come to a hault. Worried that there would be no way for me to get to the airport, I called United and asked if they could put me on the same flights a day later. After a brief hold I was confirmed in business class a day later. I would miss the Airbus tour with my friends, but at least I would get there. One little quirk was the fact I was rebooked not in R-class, the fare bucket reserved for GPU upgrades, but D, a full fare business class bucket, which allowed me to apply another upgrade certificate for United's Global First product.
I woke up on the morning of my flight to find that the train I typically take to PDX was only running part of the route due to a derailment of another train. I rushed to get ready and get on the streetcar to the closest stop that would connect me to the airport. After a bit of waiting of sub-20 degree weather a train showed up, taking me to the transfer station for the airport. Lots of people looked confused as they were using two trains to go back and forth between the airport but because of that they were using a platform that isn't well marked and rarely sees action.
Arriving at the airport about two hours after I left home, I had about an hour until my flight boarded so I printed out my boarding passes, because United's printers at PDX still print on cardstock rather than heat paper, making this aviation geek very happy. I went through TSA PreCheck in a few minutes and was buying a cup of coffee just moments later. I walked up to my gate right as boarding was starting. No de-icing was needed but we did have a delay getting out of PDX for some reason. My original plan was to visit the new Polaris lounge in Chicago but that plan was quickly dashed with what turned out to be a tight connection.
Finally up in the air, I settled in for the four hour flight to Chicago O'Hare. The flight attendants were friendly and lunch service was started shortly after we reached our cruising altitude. I chose the beef option and I'll let the picture do the talking. It was barely edible. I ended up having a few bites and avoiding the rest, figuring I would eat when I got into Chicago.
After the meal service I got a little bit of work done and read before we landed in Chicago. As we taxied to the gate I checked my connection and noted it was on time still, giving me 15 minutes to get to the gate. I made it off the plane, through O'Hare's neon tunnel, and up to my next gate in about 10 minutes and realized there was no plane parked at our gate, even with a huge line of people already queued for boarding. Turns out we were going to take an hour delay in Chicago but United never posted it until 10 minutes after our scheduled departure. Guess I did have time for a visit to the Polaris lounge. Instead I chatted in the gate area with a friend who happened to be traveling on the same flight but was continuing on to Budapest.
We finally boarded and I made my way to seat 1K, a window seat in front of the pilot rest seat, where I found this.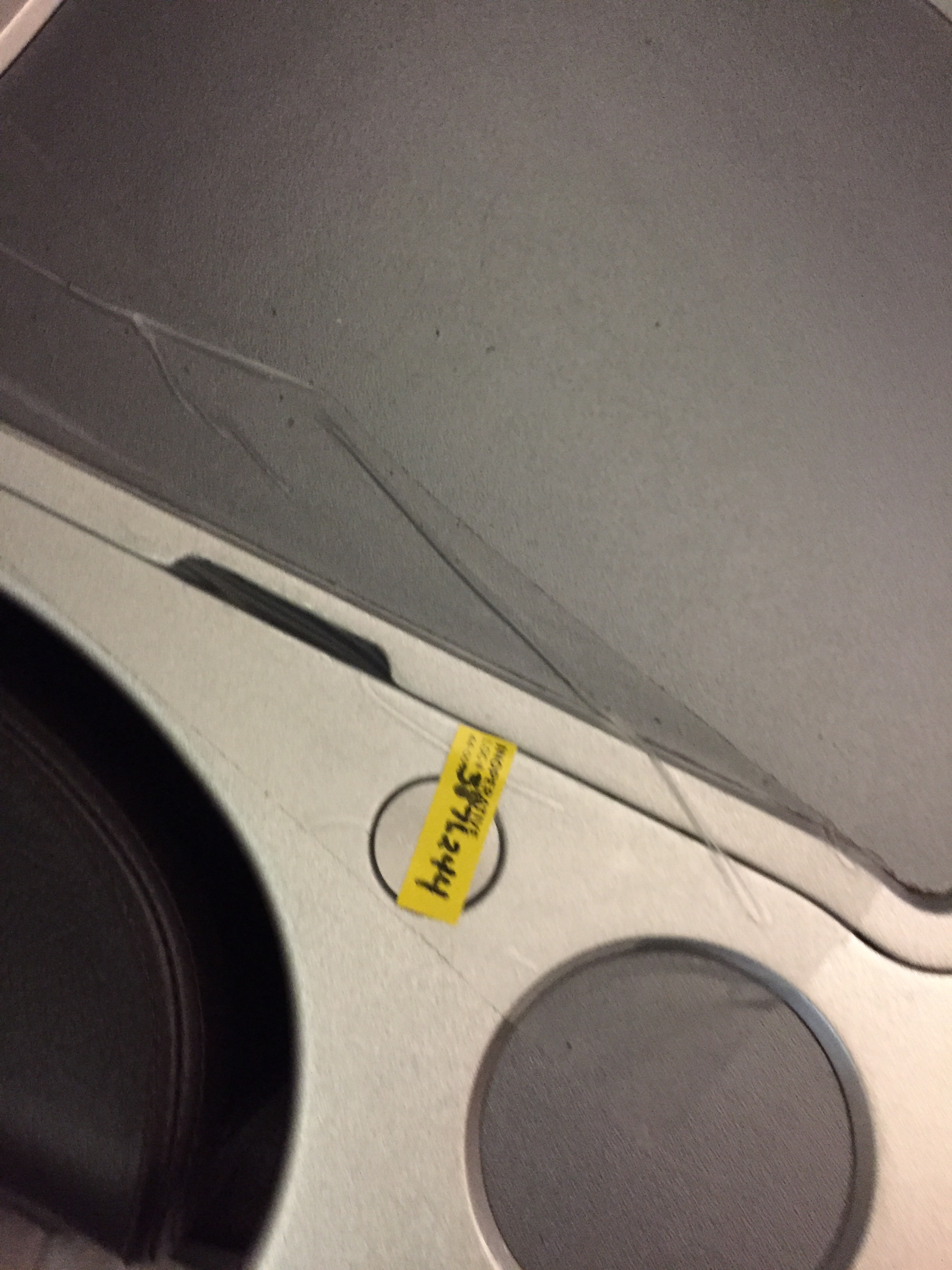 Yep, a storage compartment was non-functioning. And that wasn't the only "inoperative" sticker on the seat, another bin did not work in the storage area closest to the window. Disappointing but not a deal breaker.
The new Polaris inflight amenities were stacked on the seat and my first conundrum was figuring out where to put it all. I settled on the foot rest.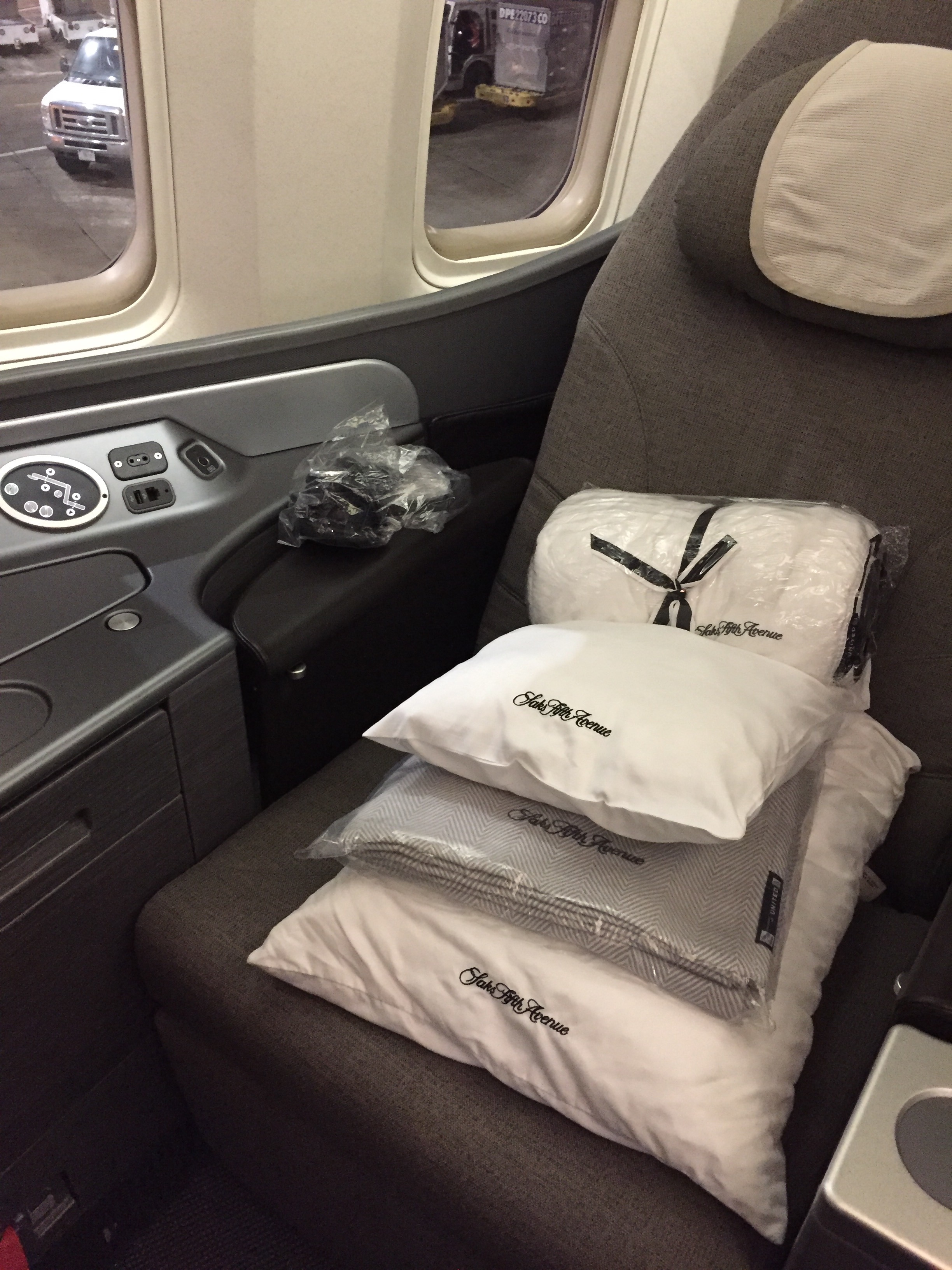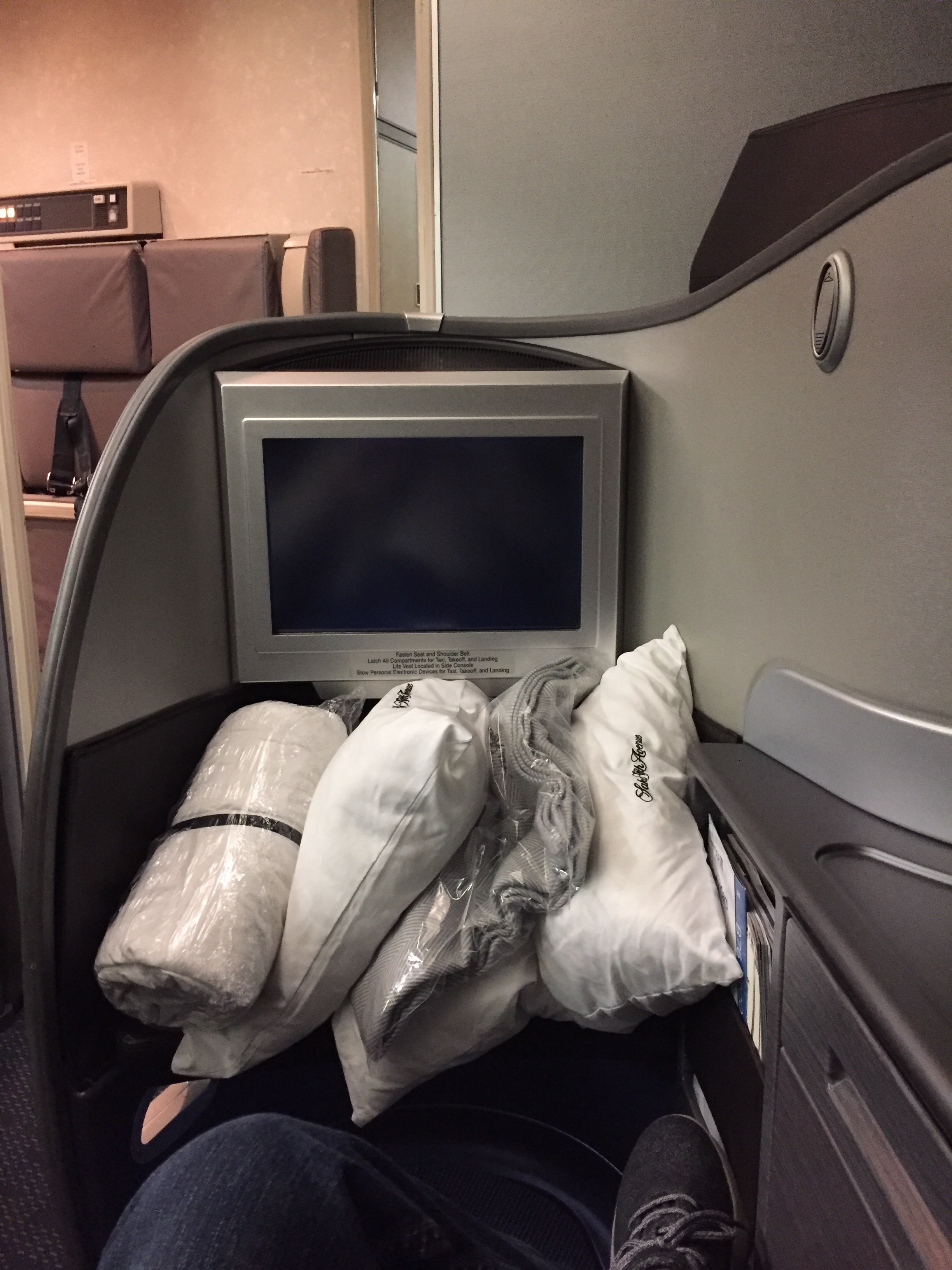 After settling into my seat a flight attendant presented the flight's menu and an amenity kit and asked what I would like to drink.
I asked for a glass of champagne and it was presented a short time later with a chocolate on the side, which is a nice touch. The setup for the plastic champagne cup does seem like it could be easy to knock over with the slightest bump, so United may want to take a look at making it a little more stable on the base.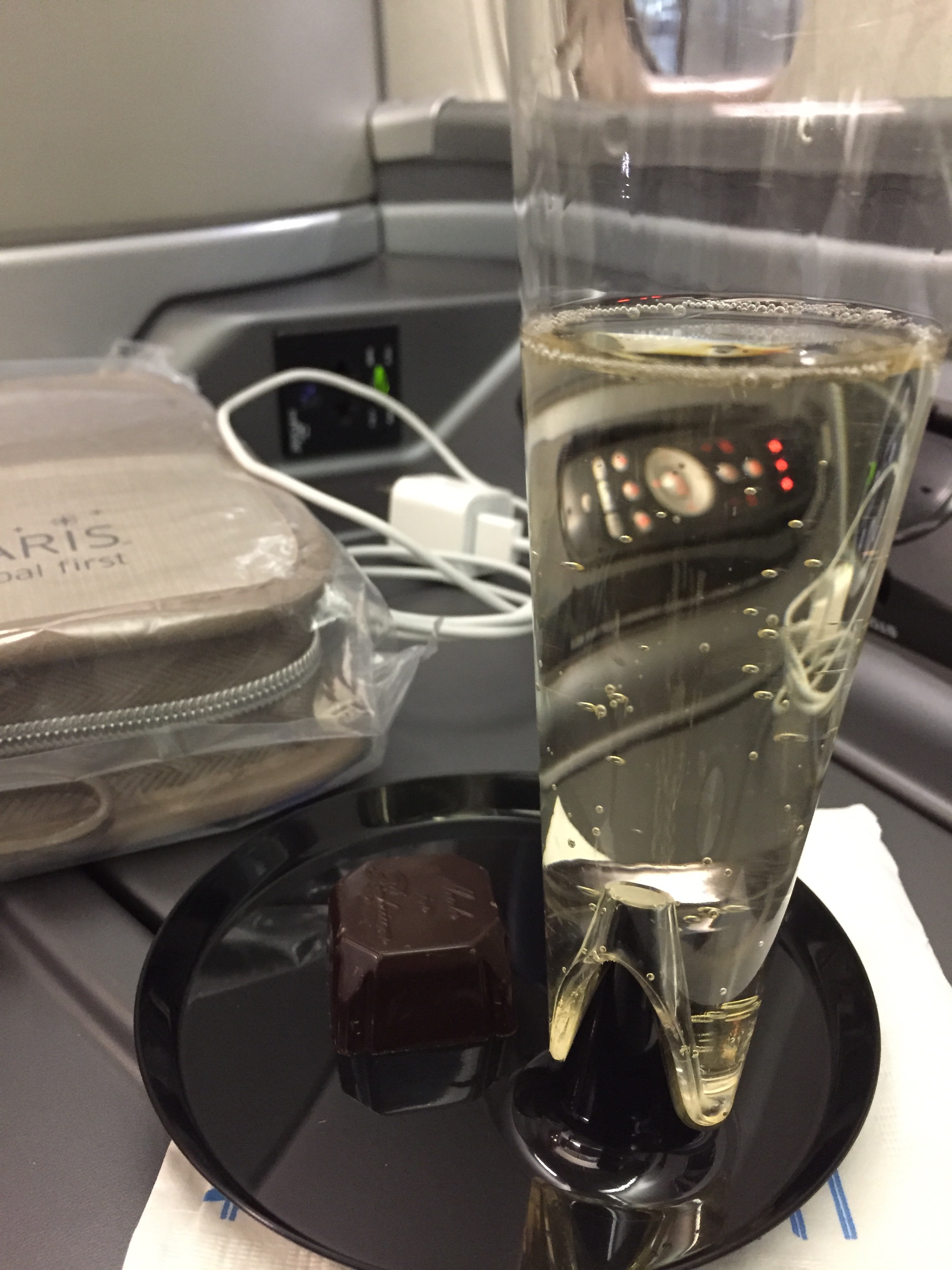 Since we were delayed quite a bit, I decided I would eat a regular dinner, figuring the entire service would take around two hours. The flight attendant came around to take orders and I decided to have the beef option, a braised short rib with grits and fava beans in a bordelaise sauce. It sounded interesting and slightly different than what United has previously offered in business class. I know, from what I've read, the Asian Fusion Chicken Soup is pretty good, but my goal was to see how previous entrees had been spruced up.
After takeoff the single flight attendant serving the first class cabin (five seats occupied with passengers, one by a pilot) came around to offer beverages and he seemed a little disappointed that I only wanted another glass of champagne and sparkling water. The addition of San Pellegrino to the Polaris menu is definitely a welcome change. A short time later the linens were set and a starter of black pepper tuna was offered. It was rather flavorless and the side of quinoa was a confusing addition.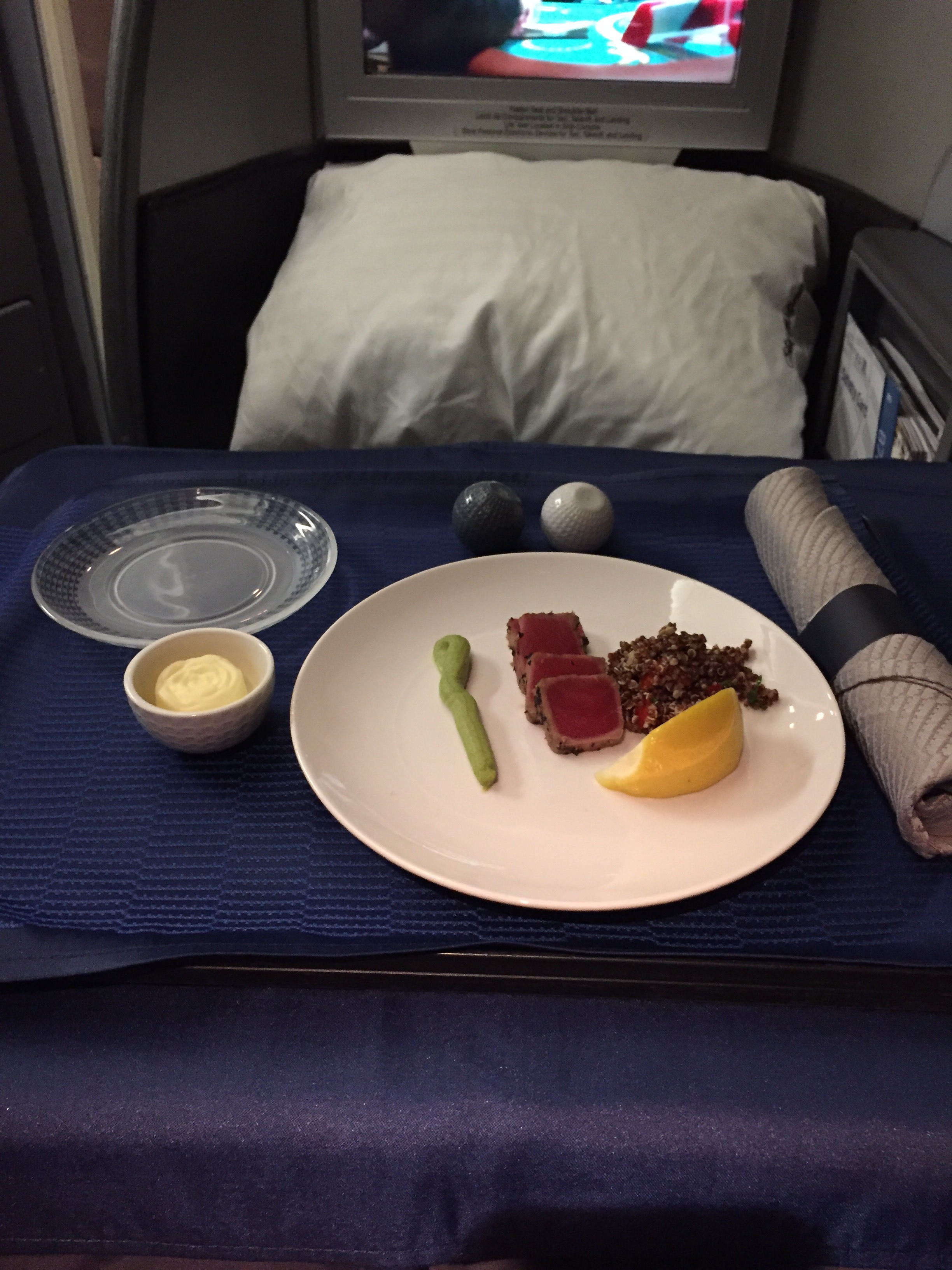 Next up was the carrot ginger soup, which I passed on. I was not really in the mood for soup and was hoping by skipping it the service would speed up a little bit. It did not.
The salad course was next and it was full of fresh greens and carrots. A nice change from previous salads I had tried on United which tended to be less than fresh and in some cases, still frozen.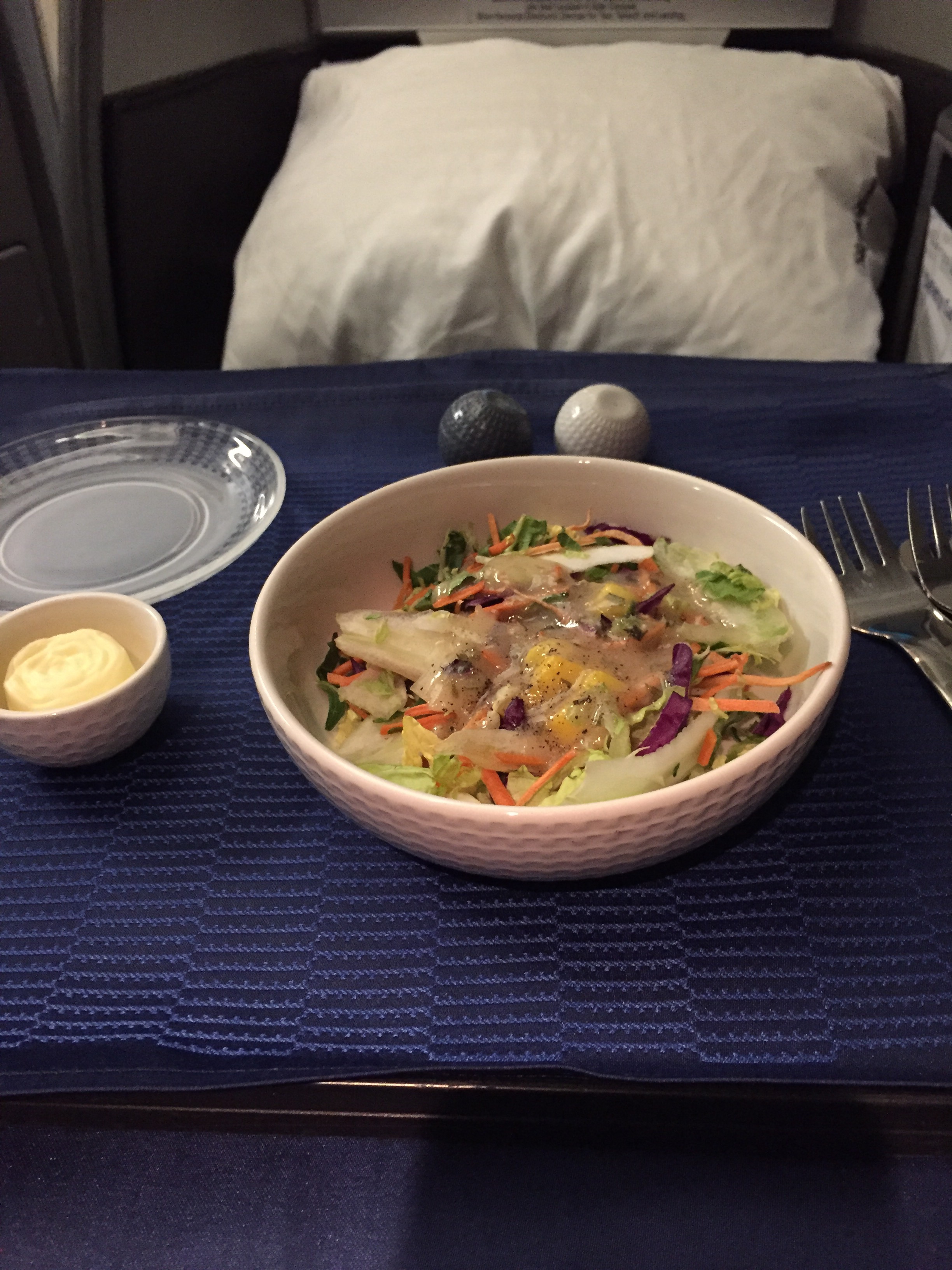 My main course was delivered shortly after my salad plate had been picked up and another round of wine and drinks was on offer. The short rib was cooked pretty well and the grits had decent flavor to them but the dish overall seemed bland. The fava beans were flavorless and the sauce on top of everything just did not seem to hold up to the altitude.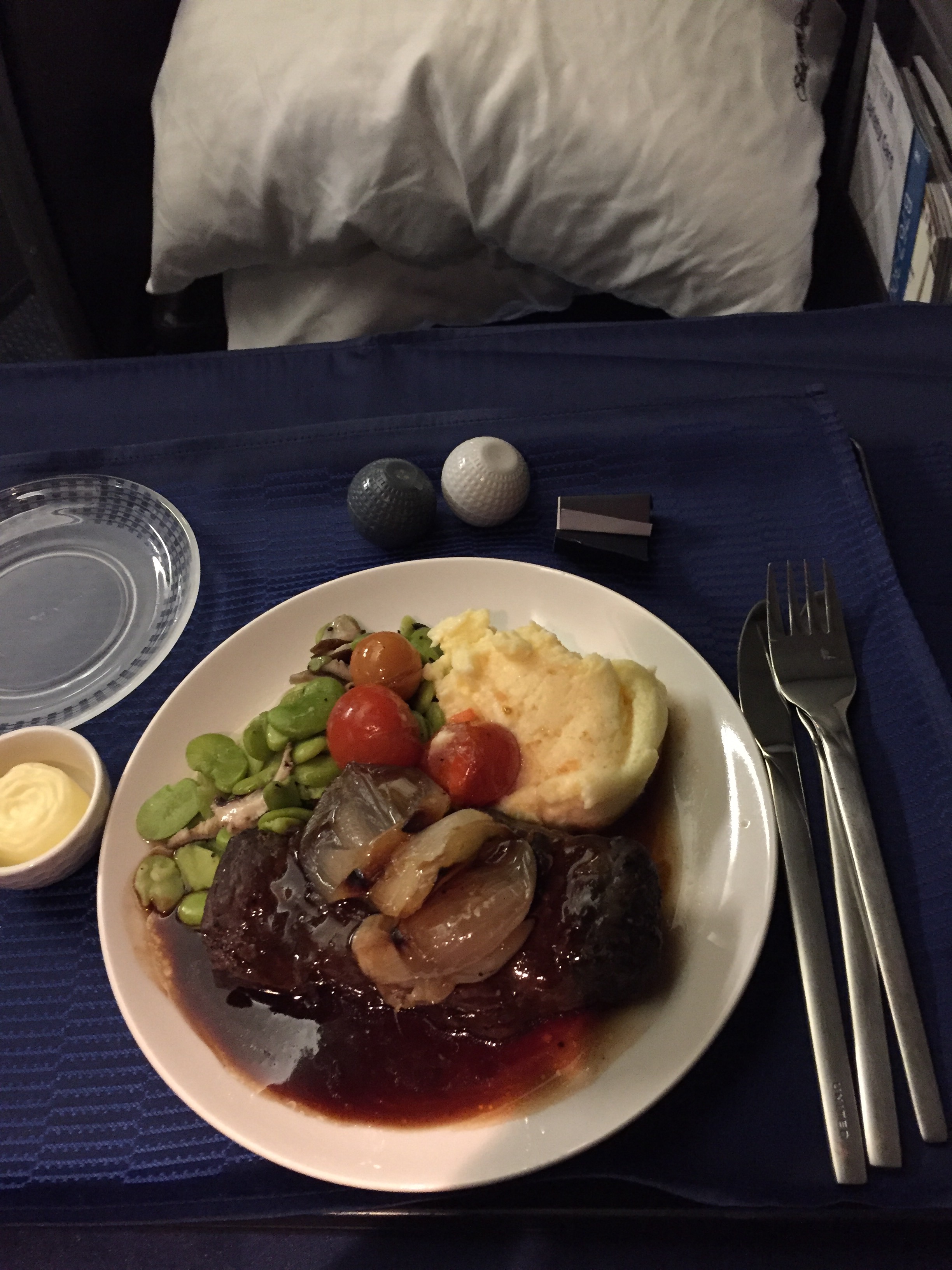 By this point we were almost three hours into the flight and realized that business class had been completely served while first class still had the cheese and dessert courses to go. I opted for the cheese course because after reading reports, I wanted to see just how much of a downgrade it was and wow, it was disappointing. On pre-merger United planes there was not enough space for the cheese serving dishes so the cheese service had always been lackluster. Served on a single plate with a single serving of crackers and maybe a piece of fruit, I frequently skipped it. On pre-merger Continental the cheese service was actually pretty good. There was usually a nice selection of cheeses, decent fruit options, and an ample serving of crackers. The Polaris service is definitely in the vain of the pre-merger United way of presenting the cheese course. Three types of cheese, none with enough flavor to really warrant a second bite, a sad pile of grapes, and a single package of crackers were put on the tray table. After a few bites I decided I was done.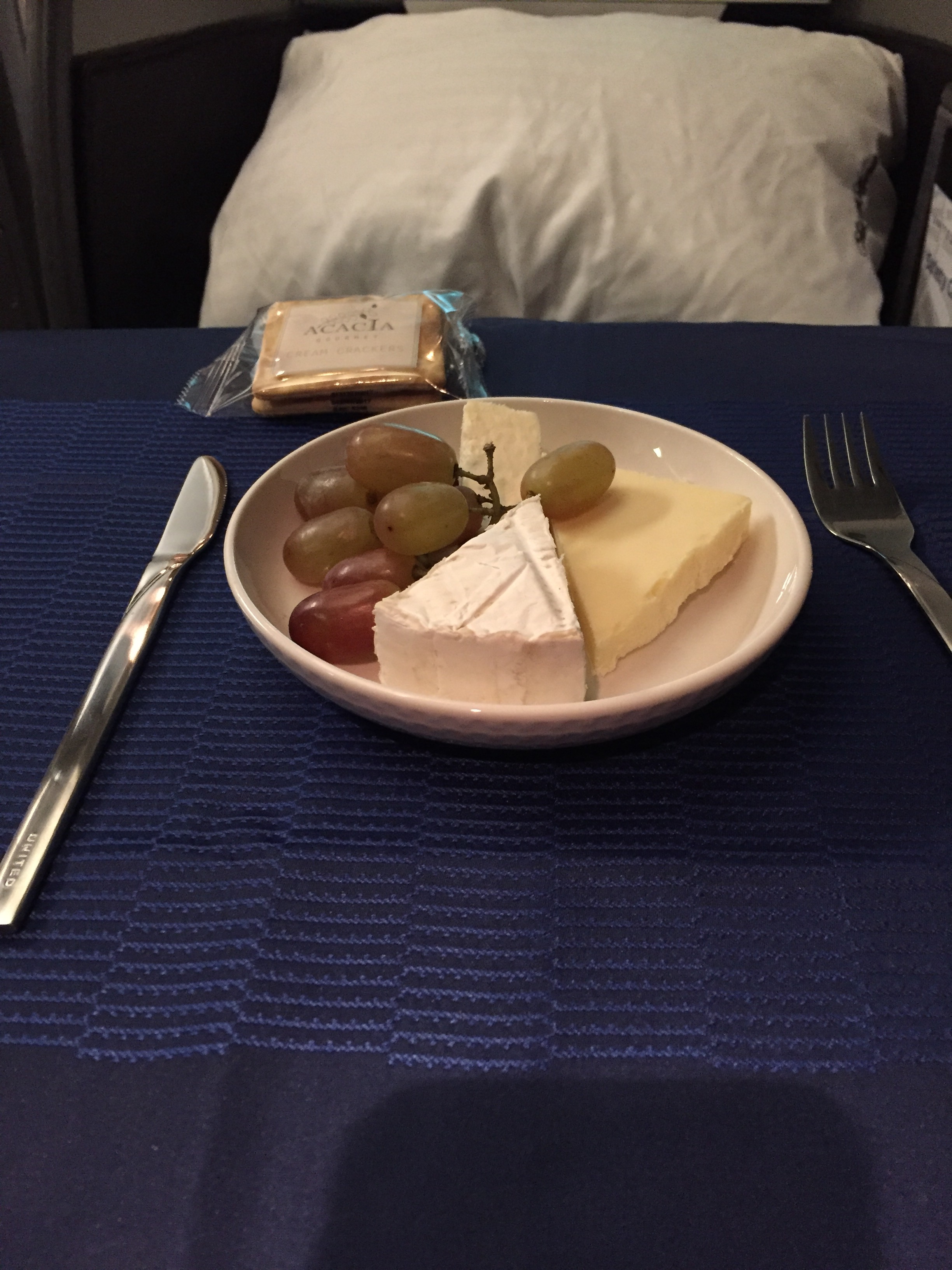 I skipped dessert, hoping to at least get a few hours of sleep. I asked for one of the new gel pillows and hit the button to put the seat down into a lie-flat position. I really like the new, bigger pillow in tandem with the gel pillow. And the new duvet is a definite welcome addition. I ended up sleeping through breakfast and woke up feeling pretty good. Ironically, there was a blizzard hitting Munich as we approached and ended up holding for another 45 minutes before finally touching down.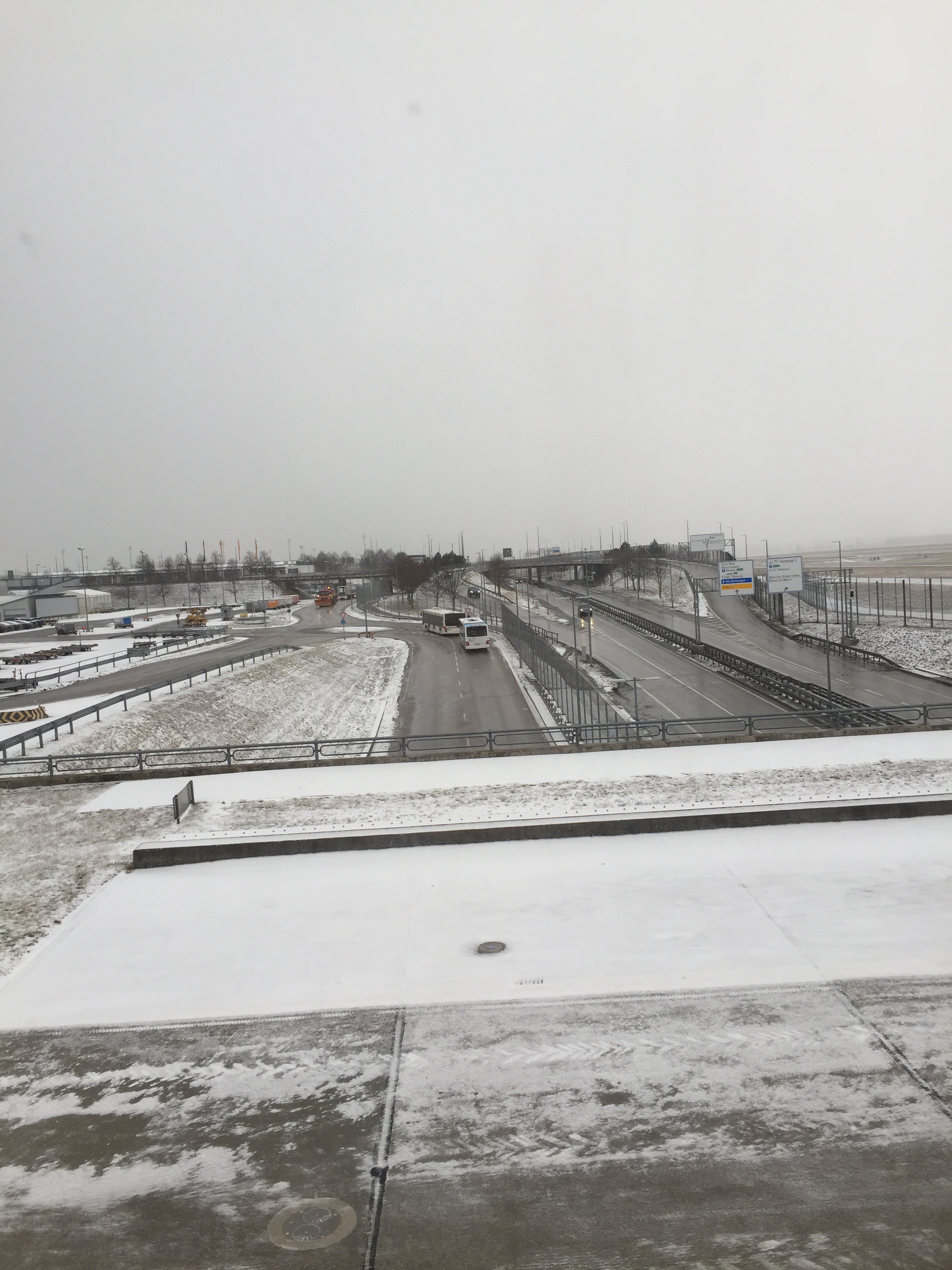 My connection in Munich was tight but because the snow had closed the airport temporarily I walked through immigration and straight onto my connection to Hamburg. No time for a shower, but at least I wasn't stuck.
Overall I think the soft product that United is offering onboard now is an improvement to what they used to have. The new diningware and glassware was a needed change, so I am glad they opted to go with something a little more modern and simple. Besides there being just a ton of stuff on the seat when you arrive, the bedding is a fantastic change. I value sleep the most on long flights so improving the pillows and blankets makes sleeping a little easier. On the ultra longhaul flights United is even offering pajamas now, so I'll write an update when I get a chance to try those. Lastly is the food. I think it was a mixed bag. The service took way too long and I don't know if that was because the flight attendants were new at it or if it is intended to take that long. It also seemed odd that the entire first class cabin was served by a single flight attendant. He seemed to do everything, between prepping the food and serving it, he seemed like he was simply trying to keep up. From now on I will opt to eat in the Polaris lounge or in the airport terminal rather than sitting through a 3+ hour meal service when I could be sleeping. Food quality was decent and I think the meal I was served out of Berlin on my flight home (which I will cover in part two) was better. Reading other reports, some people receive great meals while a lot of folks have similar experiences to mine, mediocre food with rather bland flavors. Rotation of menus is something United has promised though and that's definitely a welcome change.
There is also the new seat, which is available on the 777-300ER that United will soon be flying between San Francisco and Hong Kong and Newark and Tel Aviv. That seat is all-aisle access and will definitely be a nice change for people traveling alone and has the potential to offer a more restful flight since no one will be climbing over you in the middle of the night.
Stay tuned for part two where I'll talk about my business class experience on Berlin-Newark-Chicago-Portland.