After our move to Portland last year, I decided to match my United 1K status to Alaska Airlines. At the time, there were rumors that Alaska was matching top tier statuses from other airlines with their Gold 75K status, so I gave it a shot. A few weeks after submitting the match I received my credentials in the mail and sure enough, Gold 75K was what they gave me.

Since then I have not had much of an opportunity to fly on Alaska. Most of trips early in the year were to places they don't fly or where their prices were not competitive. But recently Alaska Airlines has started offering flights between Seattle and Milwaukee and it has been perfect for my work trips. The flights are operated by Skywest using Embraer E-175s, a regional jet that doesn't feel like a regional jet. They can hold normal sized carry-on bags in the overhead bins, they have tall ceilings, and for most carriers, they have a first class cabin.
My first trip on Alaska's new Skywest E175 service was a return from Milwaukee to Seattle on the second day the flight operated. I had been upgraded to first class shortly after booking. The only seats available were the set of two in the bulkhead. Not my favorite seats, but I was not going to complain. At the airport, there was an agent helping customers use the kiosk as well as two agents helping at the counter to check bags and print boarding passes. All were very friendly and seemed excited about the new service. I arrived with a little more than an hour until boarding but with PreCheck, I was through security and at the gate very quickly. Not much more waiting and they were already announcing boarding for families with children under two and those needing extra assistance. Then active duty military were called and first class. Walking onboard I got a good whiff of "new plane smell" which, I have to say, is like new car smell just a bit more expensive.
The flight attendants had already placed small Dasani water bottles at every seat and were greeting passengers as they boarded. They both seemed excited about the new planes, the new service, and just happy to be there. It was refreshing. The plane did not take long to board and we pushed back from the gate right on schedule, the captain telling us it would be right at four hours until wheels down in Seattle. I was actually seated next to a pilot who explained that for the first few days of service, Alaska and Skywest were flying an extra crew to operate the return flight just in case there was a storm or other delay that would cause the original crew to time out and cancel the flight. He was gracious and answered all of my questions about the E-175 and the Skywest service for all of the different carriers. It seemed like he enjoyed his job and was happy to be able to fly the E-175 for multiple carriers now.
Shortly after takeoff the flight attendant visited each passenger, asking them what they wanted to drink and whether or not they would be having dinner. I asked for an Alaskan Amber and mentioned that yes, I would be having dinner. I expected to hear choices for dinner but none were presented. A short time later and the Alaskan Amber and plastic ramekin of nuts was delivered (the nuts had been heated). A little while later and the dinner was placed in front of me. The meal consisted of a sandwich, in this case chipotle chicken, a salad, and a cookie. The meal was ok. I am not a fan of those sandwich rounds used for the bread but other than that, it was fine. I will say that I found the portion to be a little small for a flight of four hours. United, on Chicago-Portland in first, serves a large portion meal followed by an ice cream dessert.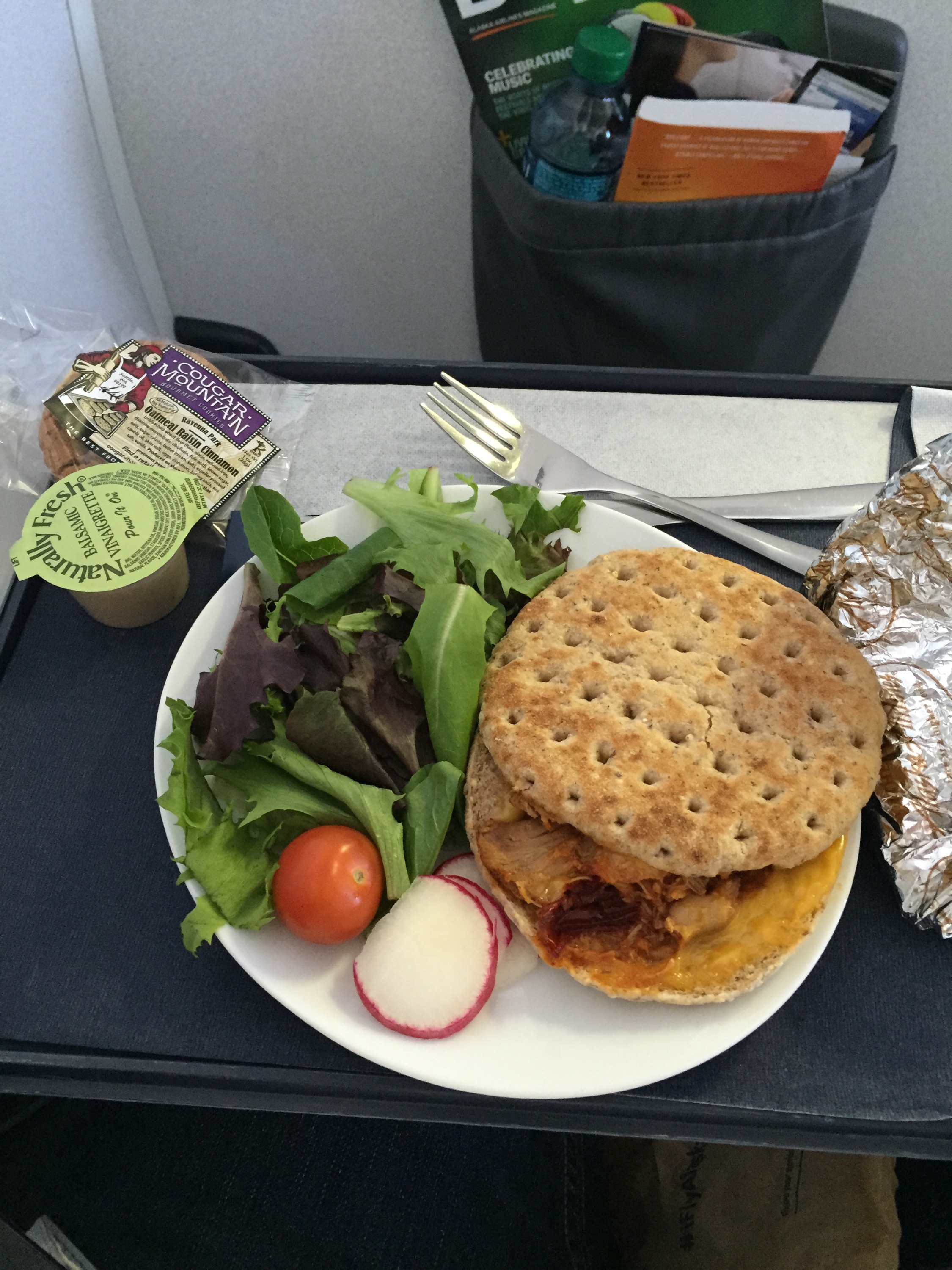 On the next flight I took, Seattle to Milwaukee, the meal was a similar sandwich and salad affair but the sandwich was a "Cuban". I put it in quotes because it had pickles, cheese, and ham but that's about where the similarities between what I ate and a what Cuban sandwich is end.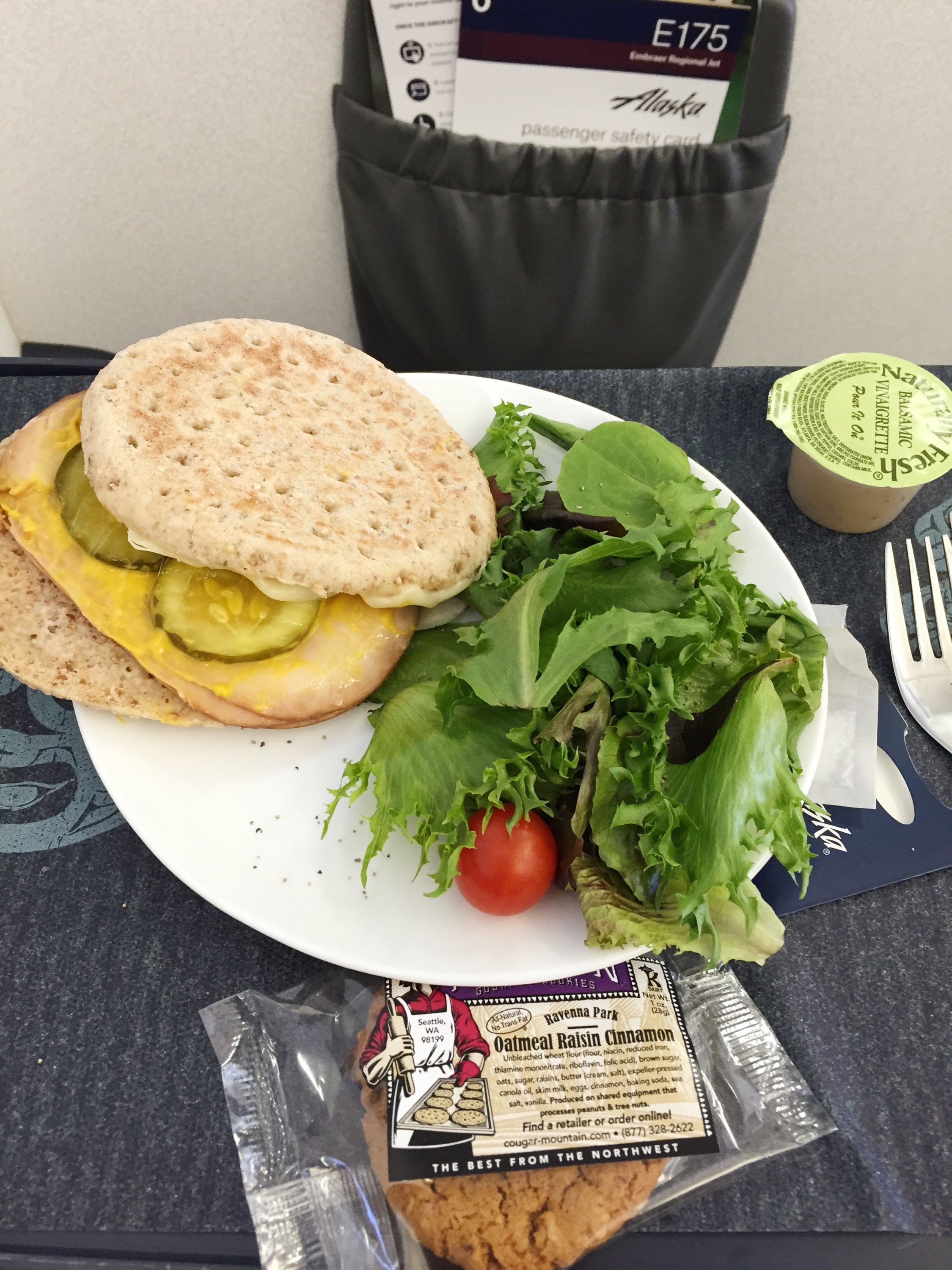 Let's talk about the seat for a minute. It's a simple first class seat with a power outlet for each passenger. The headrest is adjustable and the recline is nice. Other than that, it's a basic seat. There is also supposed to be WiFi and streaming entertainment but neither of these have been available on any of the flights I have been on, though I am told it is definitely coming.
Overall, Alaska's E-175 offering is a great option to get from the Pacific Northwest to Milwaukee. The food leaves a little to be desired but it's non-stop from Seattle (I do wish it left a little earlier) and the operation seems to be pretty solid. I have taken thes flights between Seattle and Milwaukee about 5 times so far and the only inconsistency I've noticed is in the flight attendant service. I think this will work itself out once they are used to operating for Alaska on the E-175s, but there were a few times where the crew did not know how to operate some of the equipment or handle the service. Definitely nothing that is a deal breaker for me. I am just happy to have another option where I do not have to connect through Chicago.