On Monday I flew Lufthansa between Budapest and Munich on one of their Airbus 320 aircraft (registration D-AIPP). When I sat down I started looking through their magazine and noticed an extra insert in the seatback pocket. On the insert was a description of the new in-flight entertainment system that is being tested and how to use it on this particular flight. I read through and downloaded the required application for my iPhone, called "my mediaworld", to test it out. I registered the application (required before using the system) and was all set.
The system works off of a wireless signal that starts transmitting as the aircraft passes through 10,000 feet. You select the network and launch the app. You are presented with a number of options including WatchEnjoy (television, movies, etc.), ListenRelax (music, spoken work), eJournals (newspapers, magazines), and FlyLufthansa (flight information).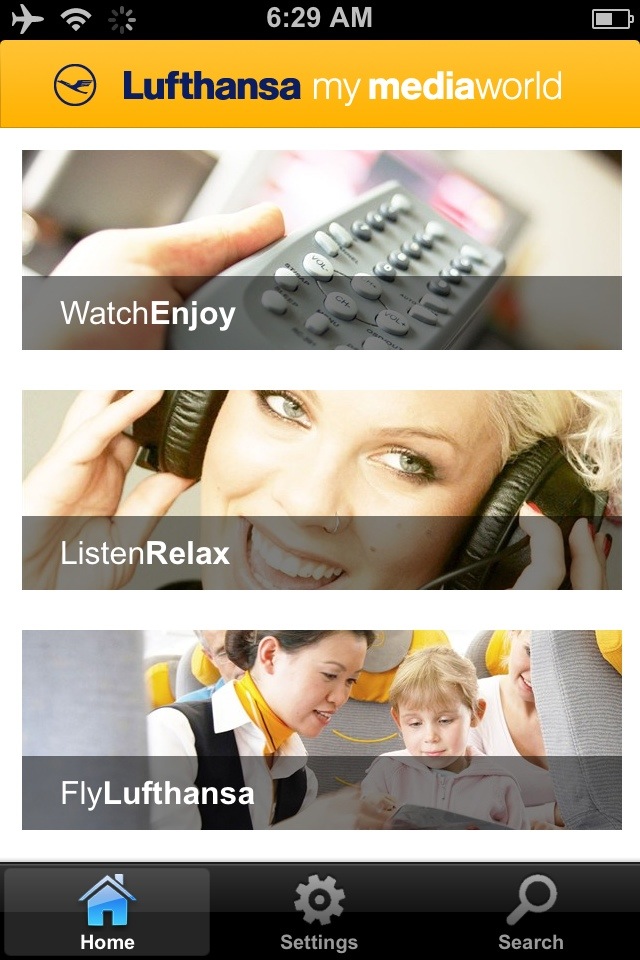 I played with each of the options just to see what was provided. The only one that did not really work for me was the magazines and periodicals section. I could never get it to actually load. I ended up selecting a movie to watch and it immediately started playing. The video quality was great and there was no lagging video artifacts that one usually sees with streaming video.
When I watched a few of the TV shows, they were only in German and there was no option to for subtitles. Not having subtitles was a little disappointing, but they are a German airline so having such content isn't all that surprising.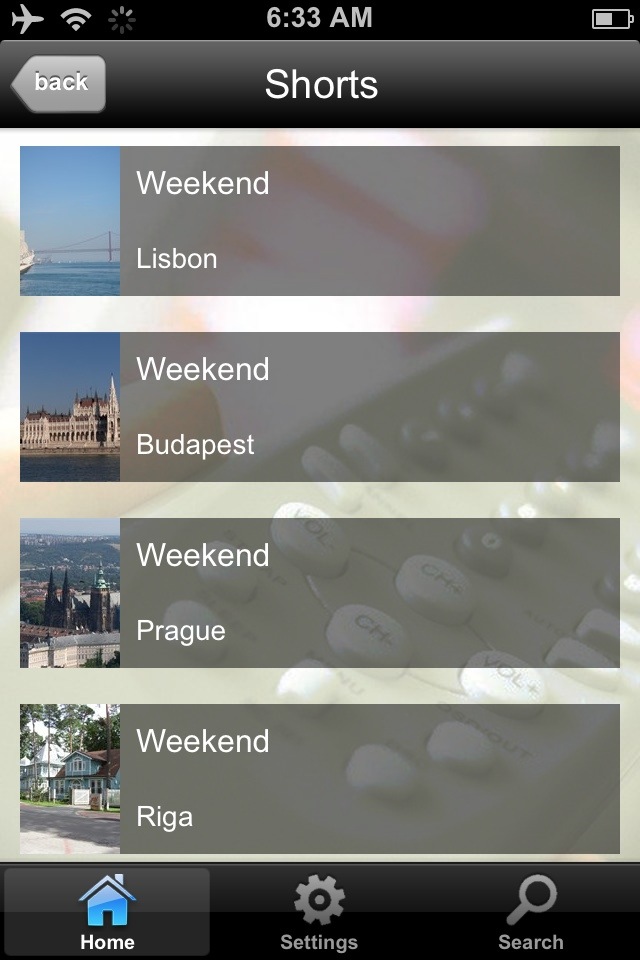 The video quality was just as good as what you would have if you downloaded the content yourself.
There is also an inflight moving map that shows your current position and a few flight statistics. The application launches the web browser, in my case Safari, and presents the flight data and map there. Great information if you're an aviation nerd like me.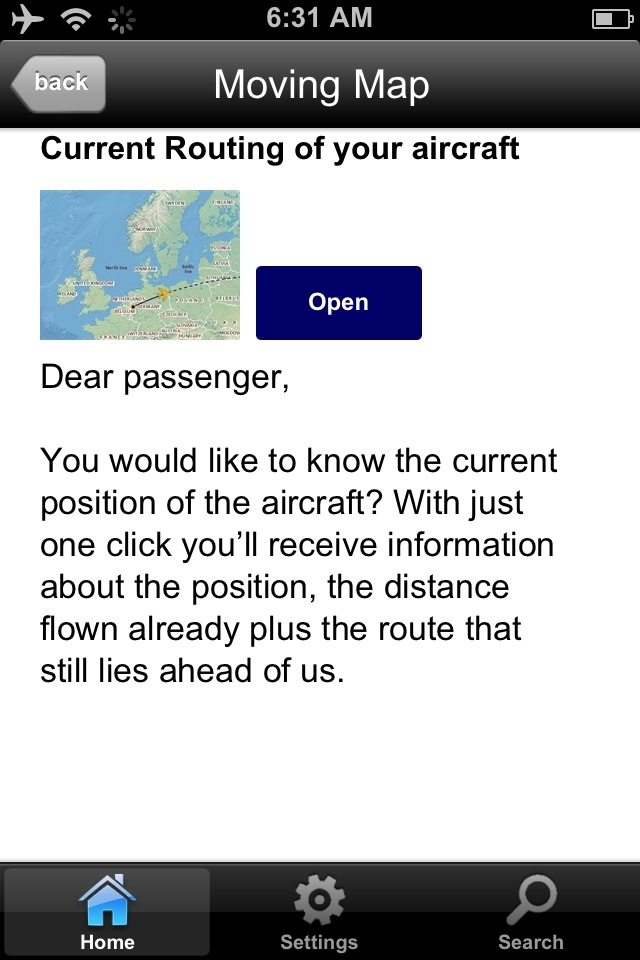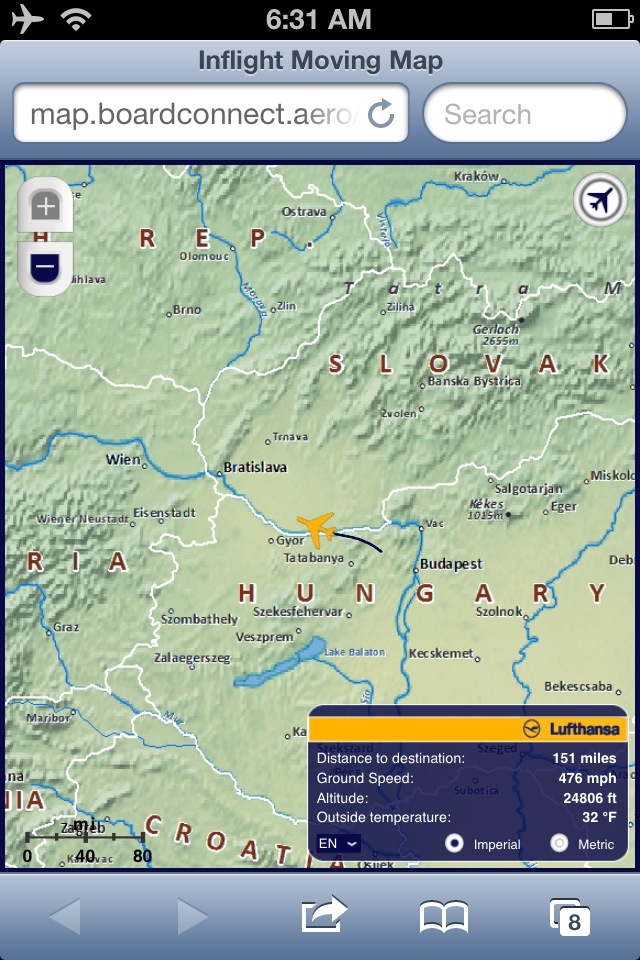 One of the neatest features is that when an announcement is being made over the aircraft's intercom, the system pauses the content you are in. I was still a little sick and could not hear well enough to tell if the sound from the intercom was being piped through my headphones as well.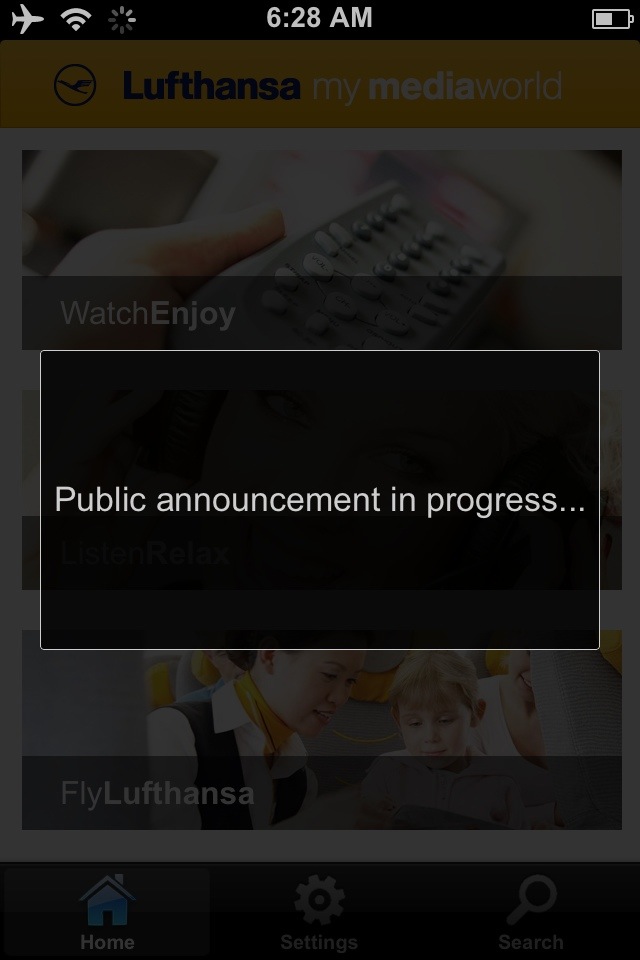 Overall it's a very cool system and if this is the direction that United is headed with their inflight entertainment, passengers will be very happy. The only concern I had with the Lufthansa system was the lack of power ports in their short haul product. If you are doing some of their longer flights on a short haul aircraft, there are no power ports. Heck, even on Lufthansa's new A380, there are no power ports in coach, meaning you'll only be able to watch content until you run out of juice.
This really is the future of inflight entertainment and it's good news for passengers. No more giant content boxes under the seat in front of you, no more watching movies on a tiny screen three rows in front of you, and no more watching the same content over and over on a loop.
Next time you are on a Lufthansa flight, be sure and check the inflight magazine, you may just have a wireless content delivery system installed on the aircraft (currently, this particular A320 is the only one with the system)! Also, I have included a few more screenshots of the product below. Lufthansa also has a full description of the "my mediaworld" system and available content on their website.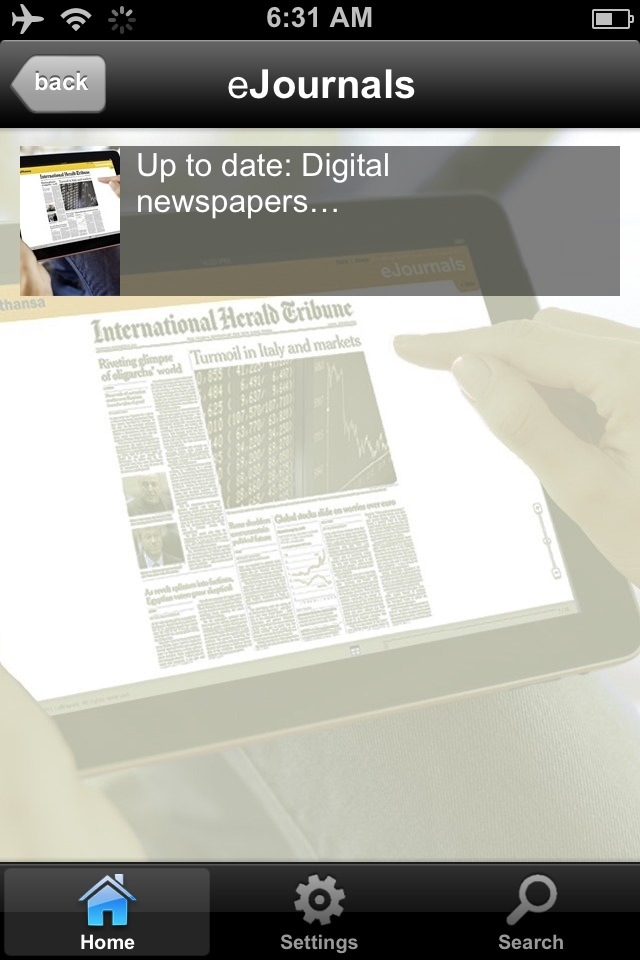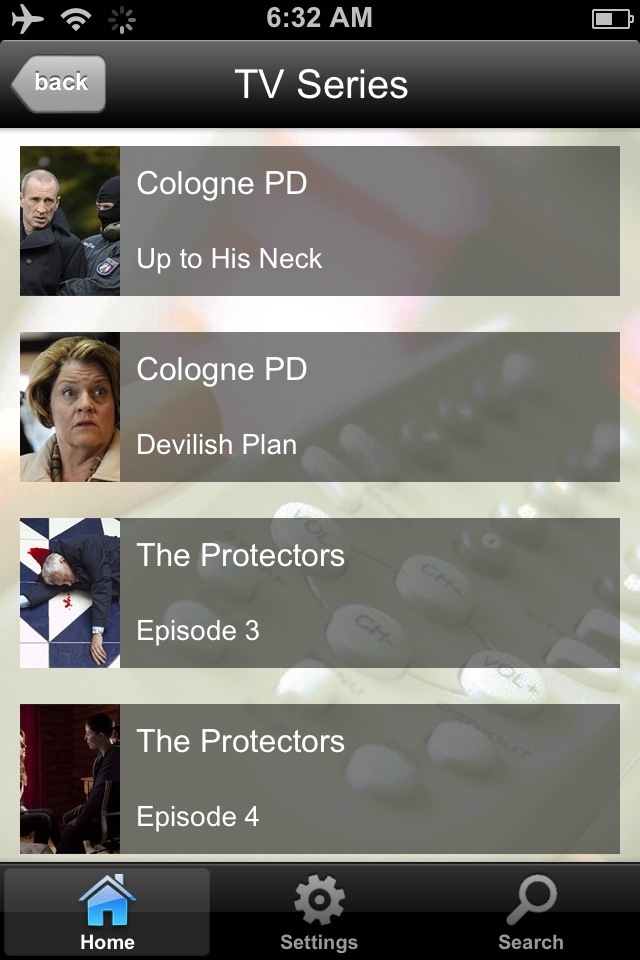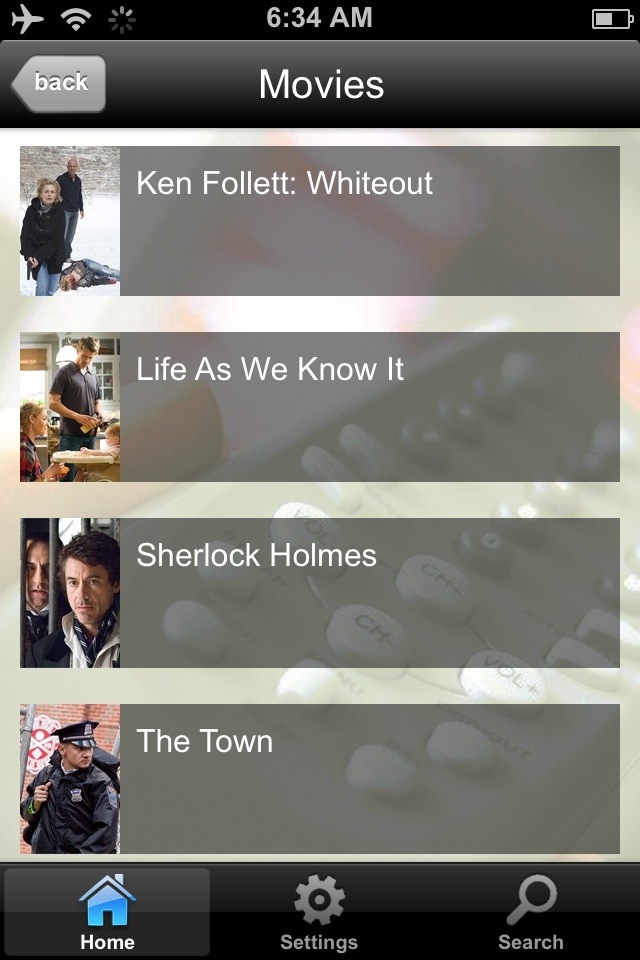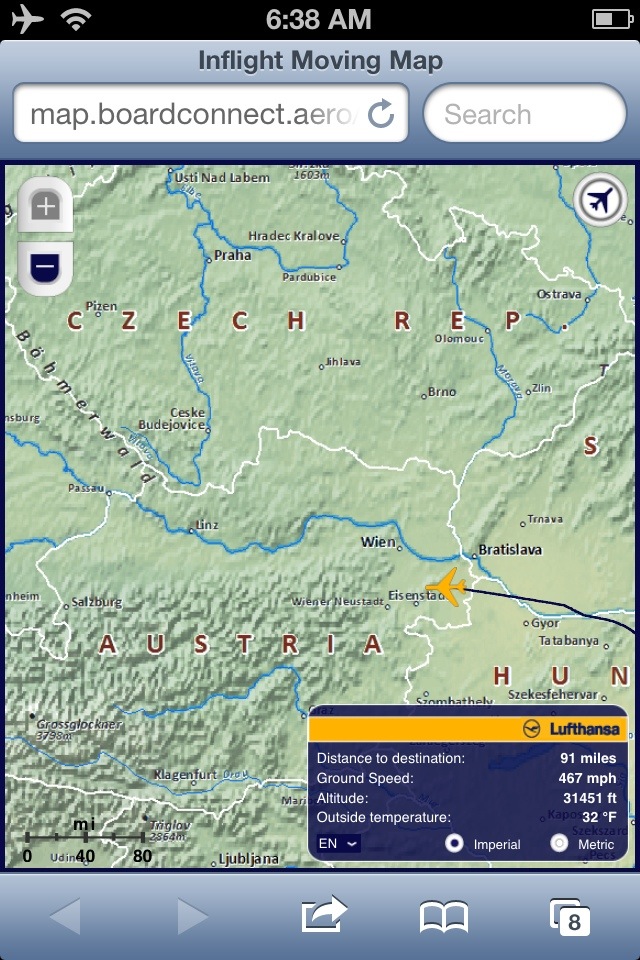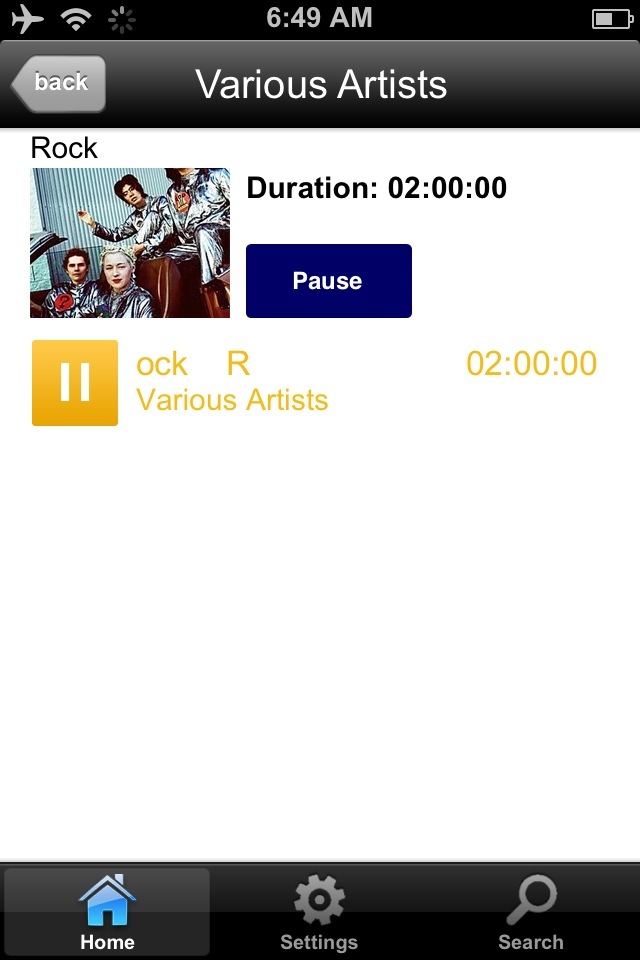 As we wrap up 2012 I thought it was time to do my year end travel wrap up. One or more nights were spent in all cities. Cities marked with an asterisk (*) were visited multiple times on non-consecutive days. Lists from 2007, 2008, 2009, and 2011 are also available.
Singapore, Singapore
Helsinki, Finland
Stockholm, Sweden
Brussels, Belgium (visiting Bruges) *
Stuttgart, Germany
Prague, Czech Republic
Berlin, Germany
Ausin, Texas *
New York, New York *
Chicago, Illinois
Flora, Indiana
Waldorf, Maryland
One of the more memorable experiences was during our trip to Berlin. We had asked a few locals for a quick meal suggestion and they pointed us to a nondescript Turkish chicken stand on Görlitzer Straße in the Kreuzberg neighborhood of southeast Berlin called Hühnerhaus. The chicken was tender and juicy with an addictive crispy skin and the side salad was served with a lemon dressing that made me abandon the french fries. Put that together with the atmosphere and it was definitely a winner.
In Singapore, the highlight was the experience at the nighttime satay market at Lau Pa Sat hawker center. A whole street closes down every night, making way for satay stands. A bustling atmosphere, cheap Tiger beer, and delicious satay made for a fun way to ignore the oppressive heat of the city.
As far as flying statistics, 2012 was not a hugely impressive year in terms of distance traveled, but I did have some memorable flights, including my first trip on United's 787 and my trip to Singapore. All in all, I flew 111,935 miles or 4.49x times around the earth. That flying was done on 53 domestic flights, 2 intra-continental flights, 8 intercontinental flights, and 9 hops around Europe and inside of Canada.
If you'd like to look at my overall flying statistics, you can visit my FlightMemory page.
My Domestic Flights: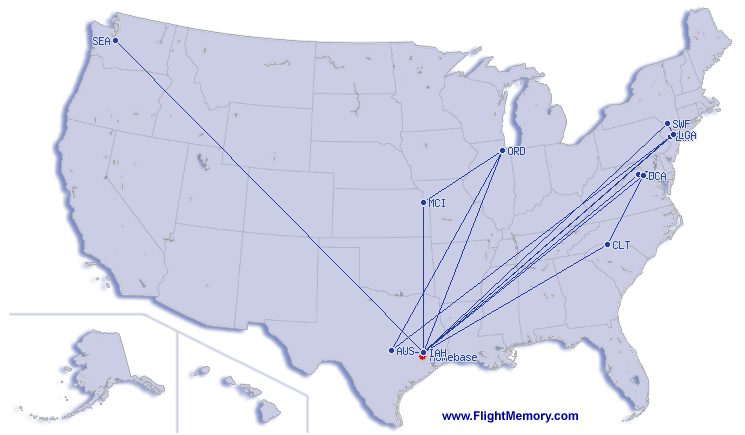 My International Flights:
My Intra-European Flights:

Have a Happy New Year!
On Thursday evening, while randomly looking at reward availability on united.com, I happened upon two first class reward seats on Lufthansa's A380. The flight would leave from Houston on December 29th and arrive in Frankfurt on December 30th. For 235,000 miles I knew I could have a one-way first class reward with a return in business class for two people. That coupled with how rarely Lufthansa opens first class seats on the A380 I started frantically planning a quick trip to Europe.
The first thing my wife and I did was start looking at different cities in Europe that we would want to spend New Years Eve in. We have been to Frankfurt and while it's a pleasant city, there is not a whole lot there to do. After looking at hotel prices in Paris, London, Leipzig, Salzburg, and Vienna, we settled on Nuremberg, Germany. We have visited before and enjoyed it, so New Years Eve there would be enjoyable. I made a refundable hotel reservation and jumped into "how to make this happen" mode.
I searched for flights to get us to Houston by Tuesday evening. I have a 7:30am work flight on Wednesday and needed to give myself some time to repack and be ready to go. Jessica is joining me in New York on a later flight and would need time to do the same. Sure enough, I found two business class seats on Lufthansa's new Boeing 748i to Washington-Dulles with a two hour connection before the final flight back to Houston.
Our dog would need to go to the kennel, we would need to make sure we had our Christmas tree taken down, and a few household chores needed to be completed before we could leave. Jessica got to work on the tree and we hauled it to the tree recycling drop-off. I called the dog kennel and made sure they had space, no issues there. We finished up some chores around the house and then started doubting ourselves.
I'll admit, the thought of this trip revolved mostly around the idea of trying out Lufthansa's new first class product on the A380. Neither of us was sold on the idea going back to Nuremberg. It's a great city and I recommend it to anyone visiting Germany, but we had already been and were kind of wanting to enjoy a New Years Eve celebration. I had looked up what the festivities were in Nuremberg and while they had fireworks it just wasn't like a New Year celebration like Paris or Amsterdam.
We decided to sleep on it and on the morning of 29th, I made the judgement call to not go. Not going would give us more time to focus on planning our activities in New York and would relieve a little bit of stress on the quick repacking front. Plus, not being sold on the final destination made it a little easier to bear.
That led to a refund.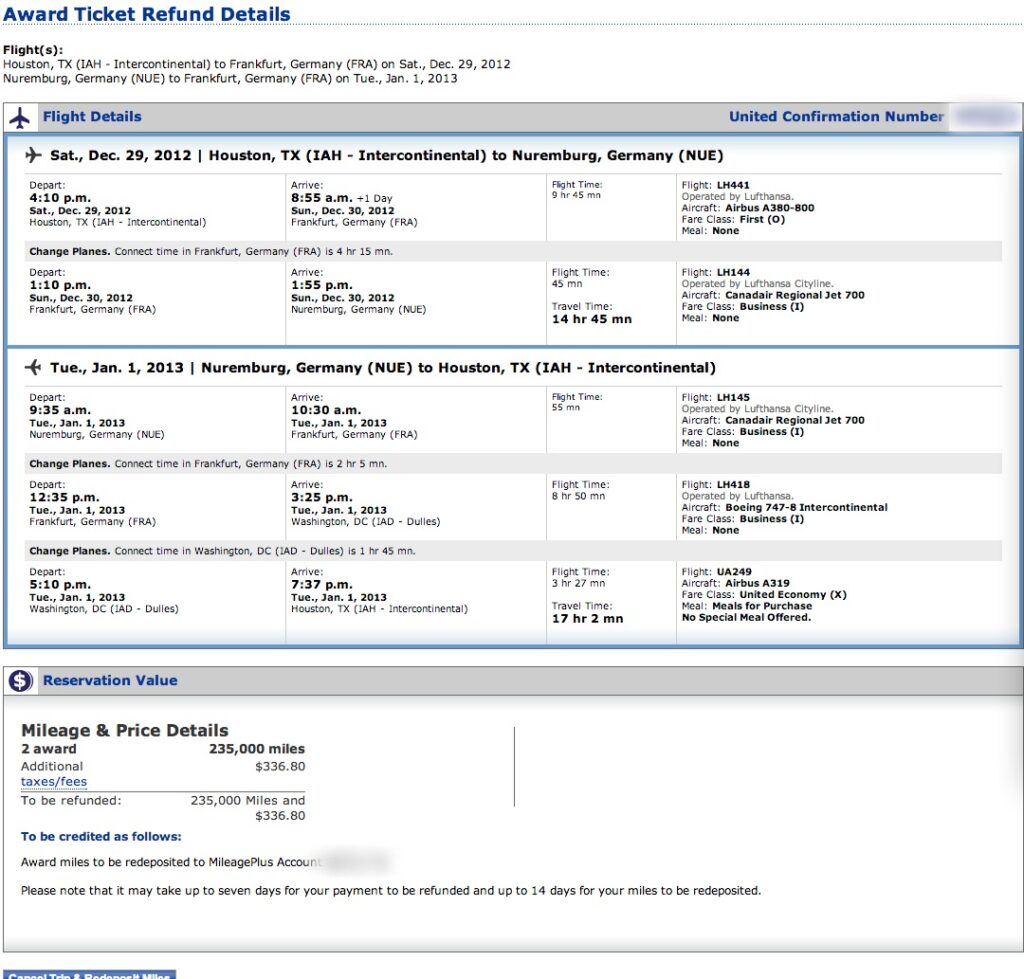 All is not lost. I still have the miles and I am sure first class availability on the A380 will appear again. Would have it been an awesome trip? More than likely. Would it have been worth it? For such a short trip, I am not completely convinced. I certainly would have enjoyed the plane rides, but the time in Nuremberg would have been too short to really cherish. For this redemption, the lack of a desired destination coupled with the short time of the trip meant it was the right decision to refund the trip.
Update 1/15/2013
Air China has made an official announcement. The service will start on July 11, 2013, pending government approval.
Update 1/9/2013
The route was pulled from Air China's systems not too long after I posted this. However, there are rumors that a private event at the Chinese Consulate in Houston January 15 will be centered around this service. Stay tuned to see what comes out of that event next week!
========================================
Though there has not been a formal announcement from the Houston Airport System nor from Air China, it is now clear from airline schedule information that Air China will begin Beijing-Houston non-stop service in July of 2013. The 4x weekly schedule currently has the flight leaving Beijing at 3pm and arriving in Houston at 3:40pm local time on the same day. The return flight will depart IAH at 1:30am and arrive in Beijing at 5am local time the next day.
Air China is a part of the Star Alliance so the new route will link up perfectly with United's domestic network out of IAH. This is also a great way to connect to destinations in Asia. Air China serves a large number of Asian destinations out of Beijing and if connecting to another country, there is a 72-hour transit without visa option to get out and see Beijing.
The route will be served by Air China's new Boeing 777-300ER, with three cabins of service, first, business, and economy. The first class seat is a suite like product configured in a 1-2-1 layout. From the photos it looks like quite the upgrade from what Air China used to offer. You can tour the cabin by watching the video below. The business class seat on the 777-300ER is pretty much identical to what United installed on their ex-Continental international aircraft, a lie-flat seat with a large entertainment screen. And lastly, economy class is configured in a 3-3-3 arrangement with a new inflight entertainment system and a footrest.
It is great to have another international carrier out of Houston and when added to Turkish's new service starting April, Intercontinental will have thirteen foreign carriers providing flights.
My Monday mornings are rather mundane. I am up at 4:15am to make sure I get to the airport with plenty of time. Usually, I arrive too early (this has become more common with PreCheck) so I usually buy a cup of coffee and hang out at the gate. Today was just like any other Monday except for two things.
The first, was four women and a baby traveling together. It was, I'm guessing, the grandmother, the daughter, and the two granddaughters along with a great-grandchild. The grandmother had a walker and had trouble moving on her own. When they called for people with disabilities to board first, the grandmother stayed seated. The made the same announcement again, this time with the gate agent looking right at the older woman. Nothing. She sat there and waited. Near the end of boarding I see all four women walking down the jetway. They had waited until the end of boarding so not to hold anyone up. Very thoughtful of them, though I wish an agent would have approached them before boarding to ask if they'd like to get settled before they started regular boarding. Maybe an insignificant observation but I thought it was interesting.
The more random incident occurred about halfway through boarding. A woman walked on-board and stood at the front of the plane, looked at the first class cabin, then exclaimed, "this must be the man's club". Sure, every seat in the cabin was occupied by a man, but that had to be the most random thing I have experienced on an airplane in a while. I am not sure if she was joking or what, but the whole thing was odd. I have been seated next to plenty of women in first class so I don't get the "man's club" reference. Maybe she missed her upgrade, I don't know. In any case, it made for an interesting Monday.
As of yesterday there were a number of really good fares to places like Istanbul, Doha, Dubai, and Kuwait City. The most attractive fare is Houston-Istanbul on Turkish Airlines' new non-stop service starting in April. The fares are good from April through June and requires that return travel not start before the first Sunday after departure.
Want to search for these fares? Simply use your favorite booking website and search IAH and IST departing some time in April-June and returning no earlier than the first Sunday after you left. One note, Turkish's non-stop service is only offered five times a week, but United has daily service via Newark.
Over the past several weeks work has been taking me to New York City, specifically, an office in downtown Brooklyn. There are a couple of decent hotels eight blocks away and they are quite nice. My issue is more with the surrounding area and finding somewhere to eat at 7pm. The options are not plentiful and I really do not want to take the subway into Manhattan every night to eat.
My co-workers all stay in lower Manhattan near the Bowling Green subway station. It is a quick train ride from the office (10 minutes) but has the same issue as the hotels in Brooklyn, there really are not a whole lot of dining options in lower Manhattan (unless you enjoy pub food every night).
Why is food so important you ask? For one, I've gotta eat, but more importantly, going out to dinner is a way for me to not think about the day's work but instead focus on other conversation. Even better is if I am able to meet up with some of my friends and talk travel or planes or some other non-work topic.
The last hotel stay I had was at the Four Points in Chelsea. The location is perfect, tons of restaurants around and easy access to the subway. It does take an across the platform transfer to get to the office, but that is really no problem. The downside of this hotel and what keeps me searching for other options is that it is somewhat dingy and not well kept. I do not worry about bed bugs but the hotel has seen better days. The other options I am exploring are the Four Points in SoHo, the Sheraton in Tribeca, the W on Lexington, and the Four Points in Midtown. The last option I have already kind of written off though, I have no interest being near Times Square or dealing with the trains, crowds, etc. there.
But, I am open to suggestions. Any thoughts or experiences with hotels in Manhattan? My main requirements are close to a subway stop (preferably the 4/5 or the 2/3), in an area with a decent number of restaurants, and a hotel staff that likes to keep the property clean.
Arq, the great backup utility for OS X that utilizes Amazon S3 for storage, received an update that supports Amazon's new Glacier service.
From the Haystack Software Blog:
Arq now backs up to Amazon's new Glacier service, and I'm really excited about it! Glacier storage is super-cheap — just $.01/GB per month!

With Glacier you can store 100GB for just $1/month! Or store a terabyte for just $10/month!

I got hundreds of emails and tweets asking for Glacier support. Turns out it's a good option for some scenarios (even with the slow restore time and possible extra Amazon charges). People want to use it for big stuff like iPhoto libraries, videos, etc that get too expensive in S3. They use it as a secondary backup, so they don't expect to actually restore unless their whole house burns down, taking their primary backup with it.
The price of Glacier is so low that I am looking at using it for an archival service. Originally I was thinking that it would be good to keep backups on it, but the retrieval rates for your data are fairly steep making it a pain/expensive to restore files. But, for storing old data that you do not need access to all of the time makes Glacier very attractive.
Some fascinating news out of the One Laptop Per Child project. Just given a box of these laptops, with no instructions, Ethiopian children discovered the device had a camera and figured out how to enable it.
MIT has installed memory cards that record how the devices are used and one of their founders reports:
We left the boxes in the village. Closed. Taped shut. No instruction, no human being. I thought, the kids will play with the boxes! Within four minutes, one kid not only opened the box, but found the on/off switch. He'd never seen an on/off switch. He powered it up. Within five days, they were using 47 apps per child per day. Within two weeks, they were singing ABC songs [in English] in the village. And within five months, they had hacked Android. Some idiot in our organization or in the Media Lab had disabled the camera! And they figured out it had a camera, and they hacked Android.
Fascinating.