Since the merger, United has struggled to keep its more loyal fliers, but today, in a bid to update the product and the overall premium cabin brand, United announced their reimagined business class product and experience, United Polaris. Named for the North Star, the new international business class for United promises a more enjoyable and restful journey.

At the center of the update is the new business class seat, an all aisle-access offering from Zodiac UK. Jason Rabinowitz posted a few shots on Twitter and my first impression is that it is much better than the 2-4-2 seat setup on the pre-merger United Boeing 777s.
Here it is. The new @united Polaris business class seat. #PaxEx pic.twitter.com/0M0AnmUapl

— Jason Rabinowitz (@AirlineFlyer) June 2, 2016
The aisle seats look to be the worst choice, as they are a bit tighter and very exposed to traffic in the aisle. The window seats and those offset from the aisle in the middle look to be the best choices, with more space and great privacy. For more on the seat, be sure and follow Jason Rabinowitz and Scott Mayerowitz on Twitter to see their coverage of the announcement.
Amenities
In addition to the updated business class seat United also announced amenities for travelers in United Polaris. There will be dedicated Polaris lounges with private shower rooms, small sleeping/nap areas, sit down pre-flight dining, and improved seating with AC and USB power. Onboard the aircraft United has promised updated inflight dining menus, wine flights, slippers, a cool-gel memory foam pillow, and on flights over 12-hours, pajamas. The Cowshed personal amenities will remain as part of the amenity kit.
[T]he new bedding collection will feature plush duvets, lightweight day-blankets and a large and small pillow for each United Polaris customer. In addition, mattress cushions will be available upon request.

Slippers will be available on all flights, and customized United Polaris pajamas will be available by request on flights longer than 12 hours. Flyers will also be able to request a gel-cooled pillow. New amenity kits will feature ergonomically designed eye shades, calming lavender pillow mist and additional products from Soho House & Co.'s Cowshed Spa.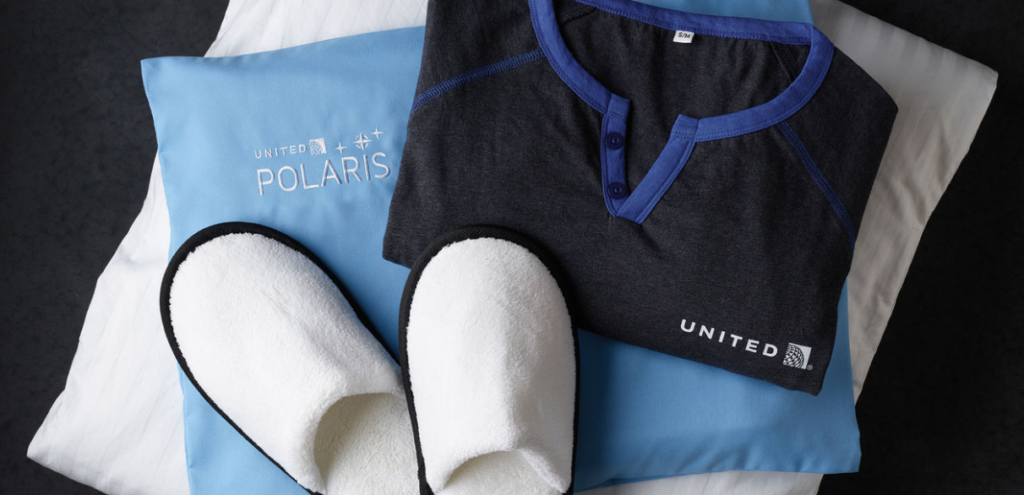 You will start seeing Polaris rolled out starting December 1, 2016 with the soft products onboard (pillows, duvets, etc.) and the opening of the Polaris lounge in Chicago O'Hare Airport.
My $.02
Besides the name, I think this is a step in the right direction for United. The inflight dining in business class on longhaul flights is not very enjoyable and I would much rather enjoy the ability to eat a meal on the ground and use the time in the air for sleep. The new seat is innovative and while there is more density in the business class cabin when compared to American's 1-2-1 seating, you still have aisle access from every seat and what looks to be a pretty nice sleeping area.
The lounge updates are also a welcome change. Anyone who has been to a United Club at Newark, San Francisco, Houston, or really, any of the United hubs, knows how crowded they can be. A lounge solely for business class passengers will help relieve some of the crowding at the United Clubs and give a few extra benefits to those traveling in business class. Shower rooms at all Polaris Club locations will be great and I would like to know if those will be accessible on arrival or if United will offer another option for those arriving from a long haul flight in business class, similar to the arrivals lounge concept they already have at San Francisco.
Anyway, these announced changes are a welcome improvement and I hope that the execution and delivery of them is as United promises.