No, I am not crazy. Ok, maybe just a little crazy. For this past weekend's trip to Istanbul, my work schedule forced me to play the "crazy" hand. Originally I planned to take the new Turkish Airlines Houston-Istanbul non-stop flight on Friday but due to some work conflicts I could not book it. Instead I booked the non-stop leaving on Saturday evening and returning on Monday evening, giving myself around 18 hours in Istanbul.
Why fly to Istanbul for such a short time? From the time the non-stop flight on Turkish Airlines was announced, I have wanted to try their in-flight service and visit Istanbul. Launching the service, Turkish had a number of promotions including a $499 round-trip fare in coach. United Airlines then announced that the booking class that the super cheap tickets booked into would no longer earn United miles. Not wanting to give up on the trip, I started digging into Turkish's premium economy product, Comfort Class as they call it, and found fare that not only earned full United miles but was also cheaper than the cheapest coach fare that earned United miles. It was a double win.
On the Saturday of my flight I showed up at check-in a full two hours before the flight and line was ridiculously long. There are two check-in lines at IAH, business and coach, with no special check-in for Comfort Class. I inquired at the business class line if it could be used for Star Golds and was told yes. I also asked about a possible paid upgrade into business class and was told to visit the ticketing desk; Visiting the ticketing desk seems to be a common Turkish Airlines theme. I walked to the ticketing desk and asked again about buying up to business only to be told that it would be a difference in fare, also known as $3,000. Needless to say I passed on that offer.
At first, boarding was a fiasco. Then, the Turkish agents made a few announcements and people seemed to adhere to the requests that were made. I boarded and as the door closed it looked like the flight was almost completely full in all classes.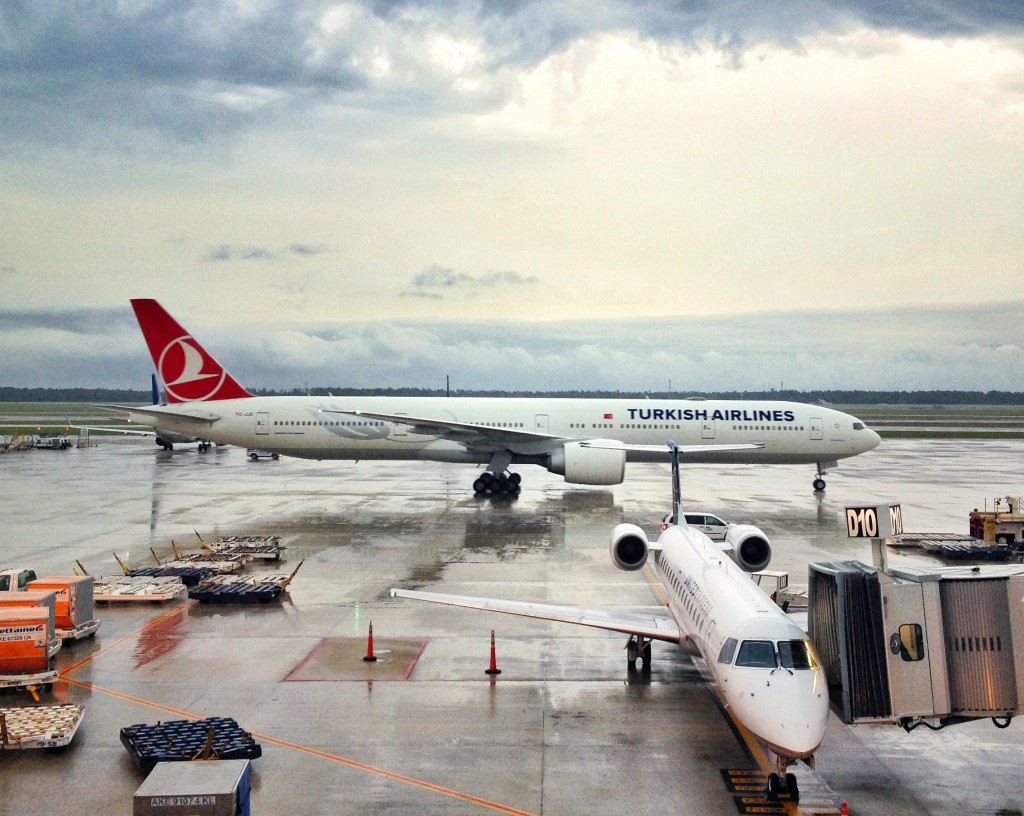 Shortly after take-off service commenced and a number of courses were served to Comfort Class passengers. The food on long haul flights is catered by DO&CO but I am still trying to figure out what the airline does in Houston since DO&CO does not have a facility at IAH. My guess is that they send their food standards to someone like Chelsea or a local catering company and cater the flights that way. In any case, the food was some of the better airline fare I have had. It was well prepared and nicely presented and tasted delicious.
The crew dynamic is very interesting. They served the different courses, handed out bottled water and then pretty much disappeared until the arrival meal began. It did not really matter on the way to Istanbul since most people slept, but on the return flight the same thing happened, leaving a lot of people hitting their call buttons to get more to drink. I did see one or two flight attendants walking around the cabin during the flight but they were not offering drinks to passengers who were awake.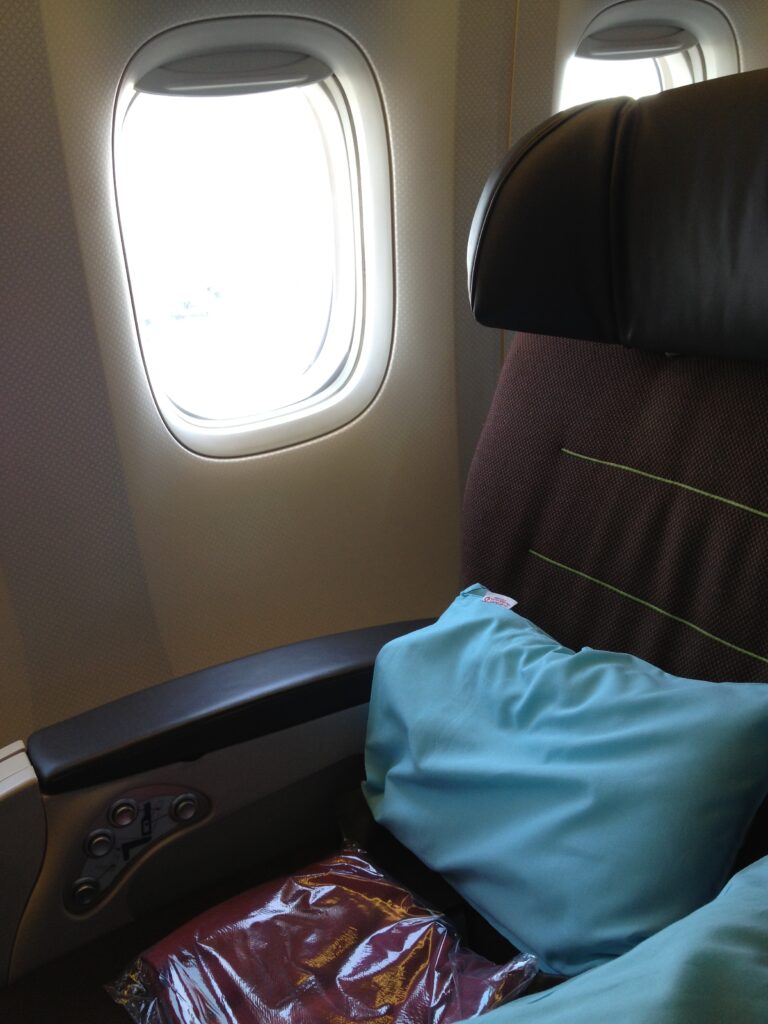 The Comfort Class seats allowed me to get around six hours of sleep. They are basically old school business class seats with a leg and foot rest. What they really need is just a tad bit more recline. That little lack of recline is my only (tiny) complaint. Other than that, the storage space is slightly limited but the overhead bins are never full, so you have plenty of space to put stuff.
On arrival into Istanbul I walked quickly to immigration, I filed for an eVisa online and didn't have to stand in that line, got stamped into the country and made my way into town. I explored the Old Town for about four hours before finding a place to grab dinner. Since the flight arrives into Istanbul around 3:55pm, you only have a short window on the same day to see any of the major attractions (most close at 5:30pm). I was still able to walk around some of the alleyways and crowded streets and get a feel for the city.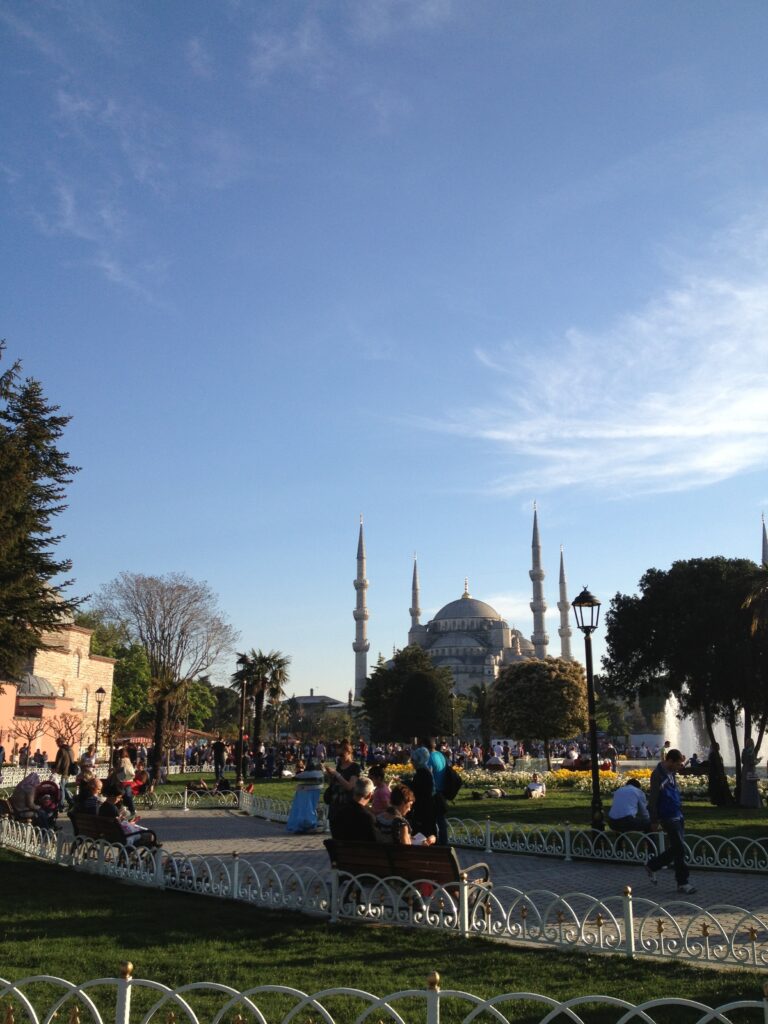 There is a ton of life in Istanbul. From tourists exploring the Hagia Sofia to locals having a çay while reading the newspaper, there is just a lot going on. With my limited time I made it to the major sights, though I did not get to visit the Basilica Cistern, which was high on my list. The next morning I woke up early and walked to the area near the Galata bridge to enjoy a Turkish coffee and watch the ferries come and go. The weather was absolutely fantastic and just watching people come and go off of the ferries was a great way to spend my morning. I then grabbed my backpack and made my way back to the airport where the check-in experience was about the same as what I encountered in Houston.
I forgot to ask about business class paid upgrades until I got to the gate and when I did inquire the response was that it had to be done at the ticketing desk (sound familiar?) and that it was too late. In complete contrast to my outbound flight, the return flight was nearly empty in Comfort Class but the service was just as mediocre as the flight to Istanbul. To top it all off there was a number of times that the cabin filled with the smell of cigarette smoke. It would linger for a little while, then go away; Then, a couple of hours later, it would come back. Some have suggested that it was more than likely crew members smoking in the rest area, which, if true, is very disappointing.
Before I forget, the entertainment system on Turkish Airlines is very nice. Lots of movie and television choices from new releases to "classics". They had the full Harry Potter series, the entire Lord of the Rings series, Police Academy 1, 2, and 3, and a whole host of other options.
I am very glad that I took the flight, especially at the price point that was available for Comfort Class. It definitely makes me want to return to Istanbul and even explore the rest of Turkey. As soon as I get a few moments to edit photos this weekend, I will upload the rest of my pictures from around Istanbul.