On Monday I flew Lufthansa between Budapest and Munich on one of their Airbus 320 aircraft (registration D-AIPP). When I sat down I started looking through their magazine and noticed an extra insert in the seatback pocket. On the insert was a description of the new in-flight entertainment system that is being tested and how to use it on this particular flight. I read through and downloaded the required application for my iPhone, called "my mediaworld", to test it out. I registered the application (required before using the system) and was all set.
The system works off of a wireless signal that starts transmitting as the aircraft passes through 10,000 feet. You select the network and launch the app. You are presented with a number of options including WatchEnjoy (television, movies, etc.), ListenRelax (music, spoken work), eJournals (newspapers, magazines), and FlyLufthansa (flight information).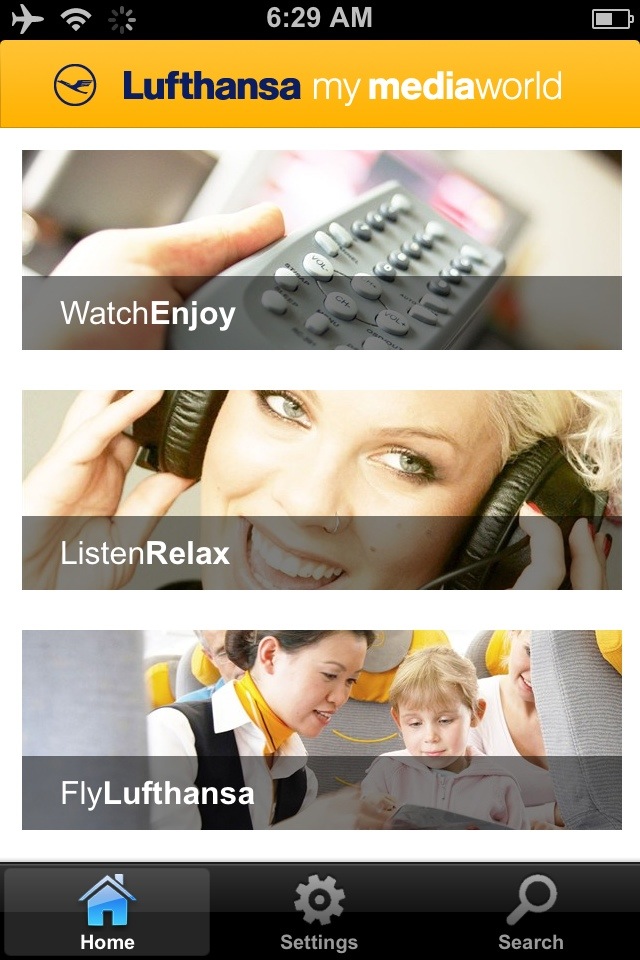 I played with each of the options just to see what was provided. The only one that did not really work for me was the magazines and periodicals section. I could never get it to actually load. I ended up selecting a movie to watch and it immediately started playing. The video quality was great and there was no lagging video artifacts that one usually sees with streaming video.
When I watched a few of the TV shows, they were only in German and there was no option to for subtitles. Not having subtitles was a little disappointing, but they are a German airline so having such content isn't all that surprising.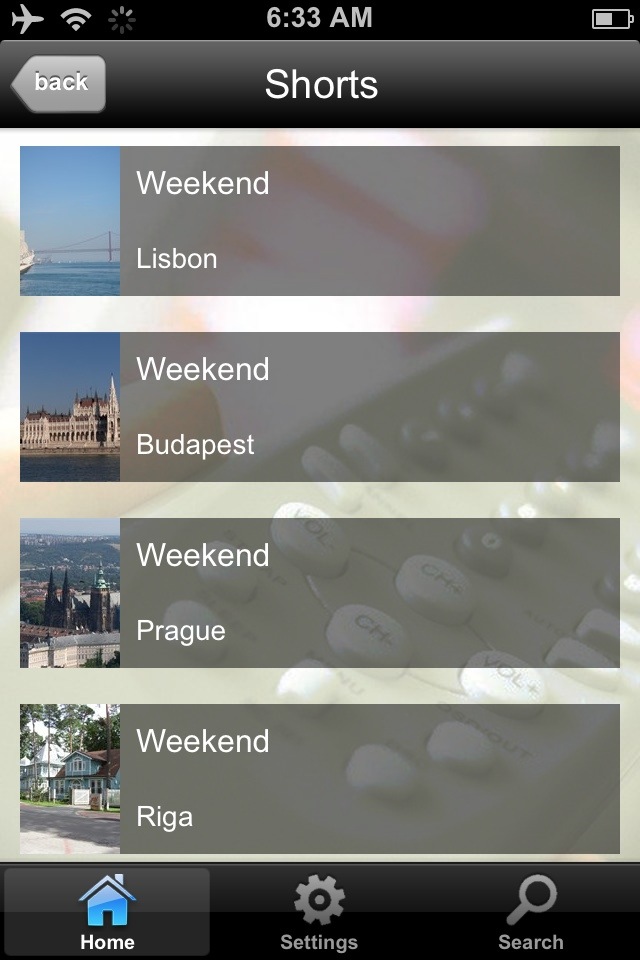 The video quality was just as good as what you would have if you downloaded the content yourself.
There is also an inflight moving map that shows your current position and a few flight statistics. The application launches the web browser, in my case Safari, and presents the flight data and map there. Great information if you're an aviation nerd like me.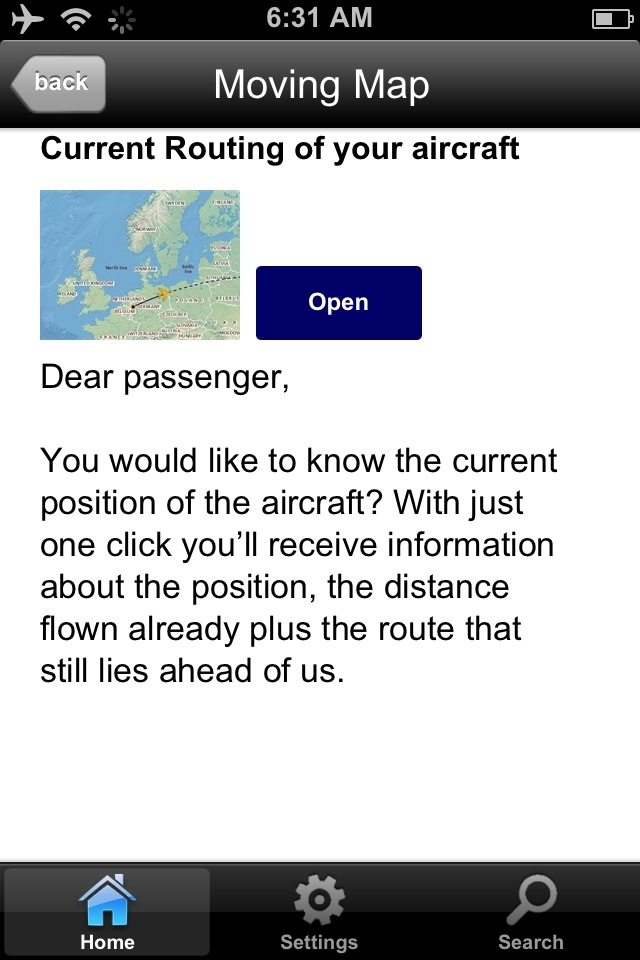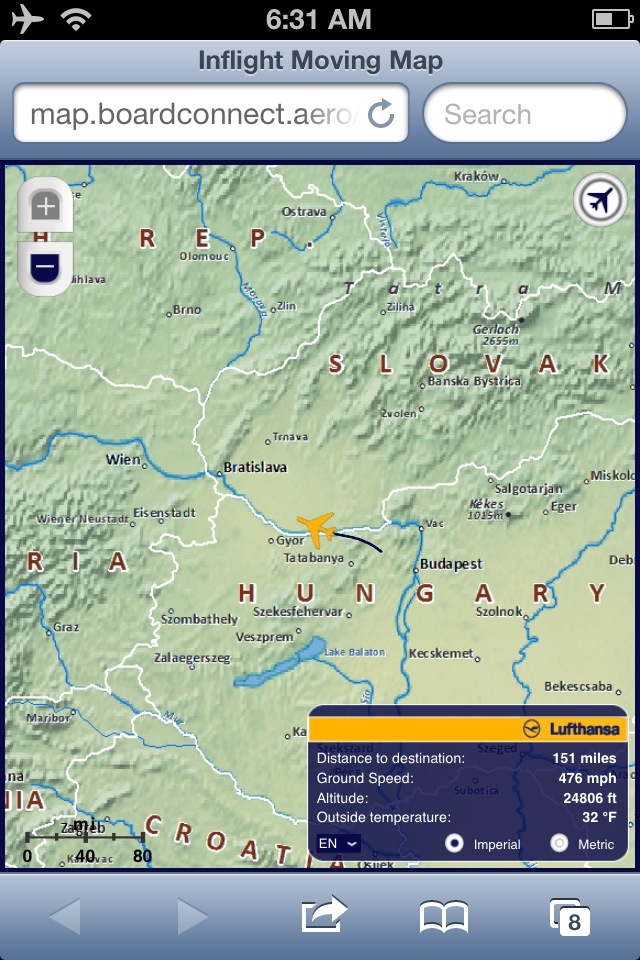 One of the neatest features is that when an announcement is being made over the aircraft's intercom, the system pauses the content you are in. I was still a little sick and could not hear well enough to tell if the sound from the intercom was being piped through my headphones as well.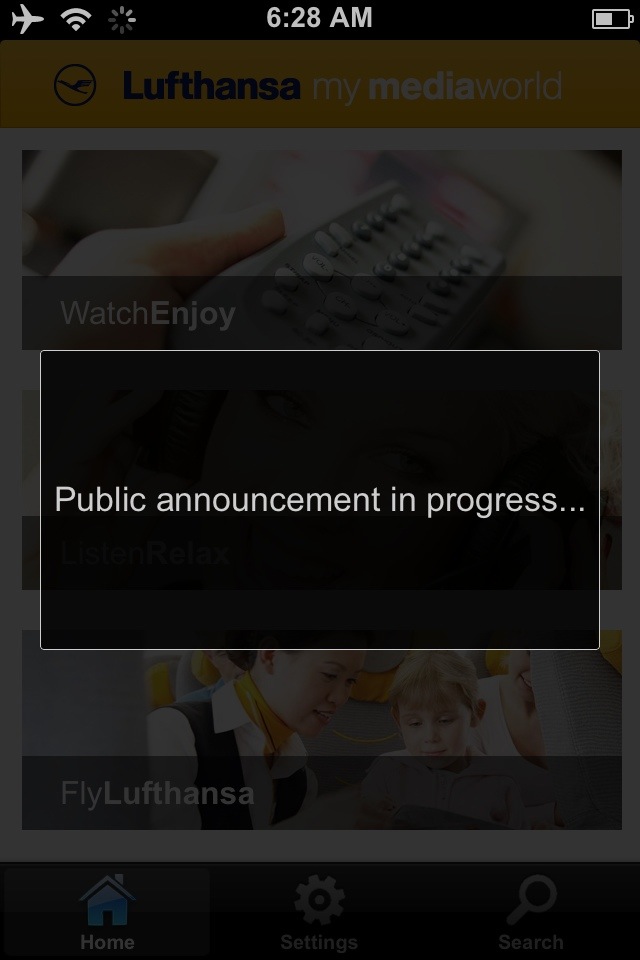 Overall it's a very cool system and if this is the direction that United is headed with their inflight entertainment, passengers will be very happy. The only concern I had with the Lufthansa system was the lack of power ports in their short haul product. If you are doing some of their longer flights on a short haul aircraft, there are no power ports. Heck, even on Lufthansa's new A380, there are no power ports in coach, meaning you'll only be able to watch content until you run out of juice.
This really is the future of inflight entertainment and it's good news for passengers. No more giant content boxes under the seat in front of you, no more watching movies on a tiny screen three rows in front of you, and no more watching the same content over and over on a loop.
Next time you are on a Lufthansa flight, be sure and check the inflight magazine, you may just have a wireless content delivery system installed on the aircraft (currently, this particular A320 is the only one with the system)! Also, I have included a few more screenshots of the product below. Lufthansa also has a full description of the "my mediaworld" system and available content on their website.