As we wrap up 2012 I thought it was time to do my year end travel wrap up. One or more nights were spent in all cities. Cities marked with an asterisk (*) were visited multiple times on non-consecutive days. Lists from 2007, 2008, 2009, and 2011 are also available.
Singapore, Singapore
Helsinki, Finland
Stockholm, Sweden
Brussels, Belgium (visiting Bruges) *
Stuttgart, Germany
Prague, Czech Republic
Berlin, Germany
Ausin, Texas *
New York, New York *
Chicago, Illinois
Flora, Indiana
Waldorf, Maryland
One of the more memorable experiences was during our trip to Berlin. We had asked a few locals for a quick meal suggestion and they pointed us to a nondescript Turkish chicken stand on Görlitzer Straße in the Kreuzberg neighborhood of southeast Berlin called Hühnerhaus. The chicken was tender and juicy with an addictive crispy skin and the side salad was served with a lemon dressing that made me abandon the french fries. Put that together with the atmosphere and it was definitely a winner.
In Singapore, the highlight was the experience at the nighttime satay market at Lau Pa Sat hawker center. A whole street closes down every night, making way for satay stands. A bustling atmosphere, cheap Tiger beer, and delicious satay made for a fun way to ignore the oppressive heat of the city.
As far as flying statistics, 2012 was not a hugely impressive year in terms of distance traveled, but I did have some memorable flights, including my first trip on United's 787 and my trip to Singapore. All in all, I flew 111,935 miles or 4.49x times around the earth. That flying was done on 53 domestic flights, 2 intra-continental flights, 8 intercontinental flights, and 9 hops around Europe and inside of Canada.
If you'd like to look at my overall flying statistics, you can visit my FlightMemory page.
My Domestic Flights: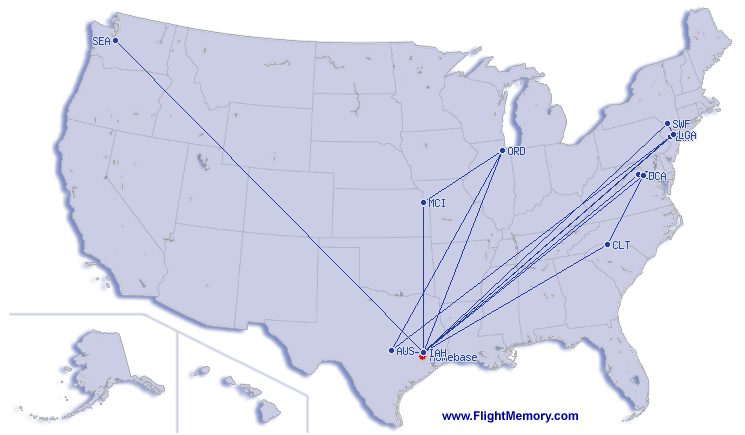 My International Flights:
My Intra-European Flights:

Have a Happy New Year!