Wow, well it has been a while since I wrote part one of this trip report. I apologize for the long wait, my work schedule has been very hectic the last five months and the updates to this site have suffered as a result.
After a great time in Prague, a beautiful train ride, and a relaxing stay in Berlin, it was time to head back to the real world of work, bills, and a lot less Czech and German in our day to day conversations. But first, we had to get to Stuttgart.
Berlin-Tegel to Stuttgart
When I originally booked the trip, the only upgradeable space from Europe back to the U.S. was out of Stuttgart. This worked out nicely since I had never flown out of Stuttgart and had only been through the city once. Since we had taken the train from Prague to Berlin, I needed a way to get from Berlin to Stuttgart. The intercity express trains were well over EUR 200 per person but Lufthansa had a fare that actually beat their low cost competitor, Air Berlin, out of Tegel. I was hopeful that by the time of our trip, Berlin Brandenburg, the new airport in Berlin, would actually be open. Due to a number of technical problems, that opening has been delayed until next year.
Flying out of Tegel airport has its ups and downs. The major pluses are its distance from the center of Berlin and the cheap, efficient public buses that service it from many points around the city. The negatives are that it is an older airport starting to show its age. Most of the original terminal check-in counters are very crowded and this has only been compounded because of the Brandenburg Airport delay.
Nevertheless, I love flying out of Tegel because it is a step back in time. Check-in and security is done just outside of the gate area. You check-in, walk around the counter, and go through the security checkpoint. The gate area is usually shared between two or three gates and there is a small sandwich, coffee, etc. vendor inside.
On the morning of our flight there was some weather around Berlin and it caused a bit of a delay and confusion when checking-in. The lines for check-in were not marked and there were no Lufthansa staff directing passengers on where they should check-in. We stood around for about an hour before they finally opened the check-in desks. My original plan was to check-in, drop our bags at the Lufthansa lounge, and head upstairs to the tarmac observation deck. Due to the delays, I scratched that plan and and just focused on not missing the flight.
Eventually we boarded the Airbus 319 and were off to Stuttgart. I am not sure what it is, but I have found that on just about every flight I take in Europe, I have no problems getting an exit row seat. It seems that Europeans have a certain aversion to sitting in these rows and quite frankly, I have no problem with that. More legroom for me.
So I'll cut to the chase, this was a rather uneventful flight that lasted just over an hour. Individually wrapped cinnamon and raisin danishes were handed out along with a drink of your choice. The flight attendants even came through offering seconds of the danishes if anyone was interested (are you listening U.S. based carriers?).
Stuttgart
We arrived in Stuttgart around 1pm and took the regional train into town, which takes about 45 minutes. We were staying at Le Meridien, which after figuring out how to get out of the train station, was only a ten minute walk away. It is a functional hotel, that's all I can really say about it. The nicest thing in the room was the bathroom. One note, do not expect an upgrade at Le Meridien Stuttgart. As a Starwood Platinum I was given what had to be one the least impressive rooms on the property and there were a large number of rooms available, per the Starwood website.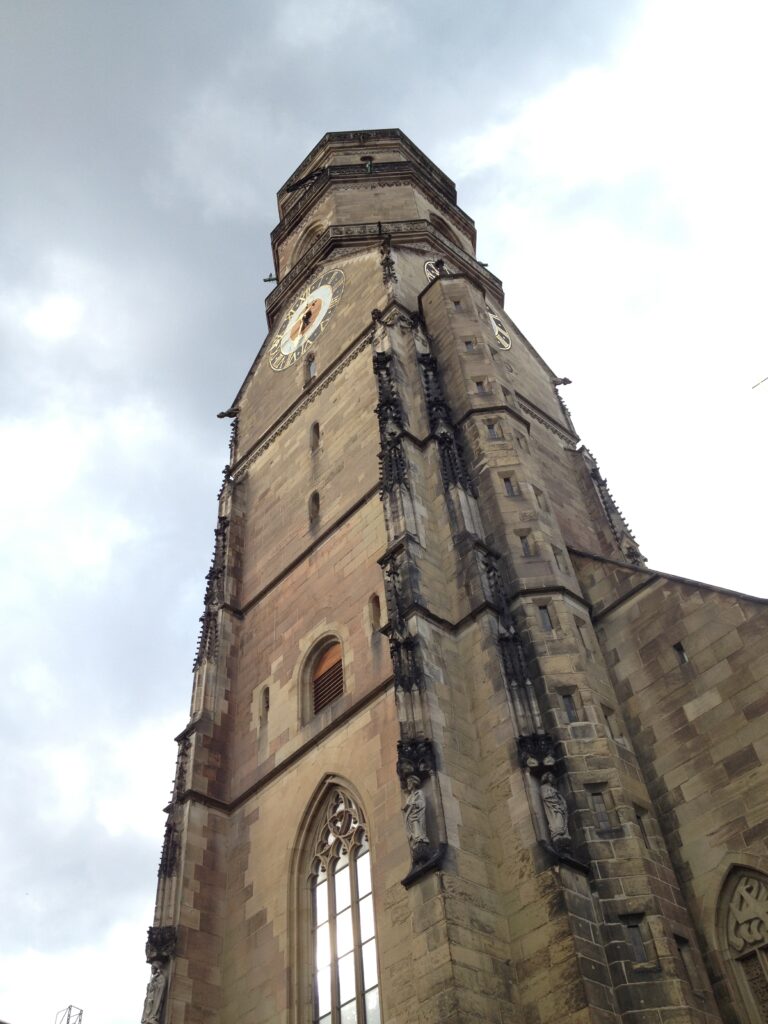 After dropping off our bags we decided to walk around Stuttgart. The first thing you will notice is that there is not a whole lot to do in Stuttgart. There are a few churches and historical sights around the center but other than that, there is a large outdoor shopping area and not much else. We wandered around the back streets, found a nice restaurant and had dinner before calling it a night.
Stuttgart to Newark Liberty International
The day we left started way too early. The Stuttgart-Newark flight leaves at 9:30am and not knowing what security would be like, we left the hotel at 6:30am. The train pulled into Stuttgart airport at 7:15am and we searched for the United check-in counters. The signage is not clear, so if you are flying United out of Stuttgart just head to the far side of the terminal away from the train station.
Only two check-in agents were working so the process took a while, even though we were in BusinessFirst. After twenty minutes in line, we were checked-in and headed to the security checkpoint, which was much faster than check-in. Like Berlin-Tegel, Stuttgart has an observation deck, this one complete with seven or eight aircraft sitting there. Due to the crappy weather, we had to skip visiting the deck (I may make a trip back to Stuttgart airport just to check it out) but we grabbed a cup of coffee and headed for the gate.
Immigration control is done just before the gate area and after you are stamped out of the country you undergo another security screening, mostly consisting of questions about whether or not you checked your own luggage.
Only a few minutes of sitting in the gate area and the United contract staff called for boarding. Onboard we were offered a beverage before our departure and I went with the sparkling wine. Not United's best, that's for sure. Not too long after and we were up in the air and on our way to Newark.
The crew was expeditious in their lunch service. The starter was a cold piece of cured meat, pickle, and mandarin orange. Definitely too much sweetness, which would be a theme of the meal. My main course choice was the steak served with potatoes and vegetables and a sweet sauce. The steak was tender and the potatoes were well flavored but it was overpowered by the sweet sauce. The cheese course was next and was a bit better than our flight from Chicago to Brussels. The flight attendants portioned our cheese selections from the large portions on their cart and gave us our choice in crackers and other sides. My understanding as to why the cheese is pre-proportioned on the United aircraft that have Global First is a function of galley size. They simply do not have the space for the cheese course. Last up was the sundae. I went with my normal toppings of chocolate and a cherry.
After lunch and dessert it was time for a five hour nap and a movie before the pre-arrival service. The crew left out baskets of snacks and gave each BusinessFirst a bottle of water. They also made occasional passes through the cabin making sure that everyone was taken care of.
The pre-arrival service was described as a chicken "bouquet". It was essentially chicken, cheese, and dough. The best part of it was the fact that it was served with a nice selection of fruit (watermelon, strawberries, etc.) and a vegetable salad with a dressing that had great flavor.
Not long after the pre-arrival service was served we started our descent into the New York area and 45 minutes later we landed at Newark-Liberty International Airport. Service wise, this flight was great. The crew did not spend large amounts at the front of the cabin chit-chatting, instead they did their service and took short breaks but still made sure to check on passengers. The food was a bit of a disappointment. I am not sure if it is the catering service used in Stuttgart but the food was entirely too sweet. The food itself is a little of a let down. United should really look at refining the BusinessFirst food options.
Newark to Austin
There is not a lot to say about this segment, a standard coach flight. It was clear a few days before this flight that we were not going to be upgraded but we at least had exit row seats. Customs and immigration was very fast and we made it through Newark security rather quickly. The Boeing 737-500s that United uses on this route are a disappointment; No in-flight entertainment, rather uncomfortable seats, and very small overhead bins make it an unpleasant experience. United is retiring these jets though, slowly but surely.
Conclusion
This was a much needed vacation and I enjoyed most of United's hard product (the seat, the new amenity kits, etc.) but pieces of it could use some work. The seats on the 3-class 767-300s do not have a lot of storage space and the cubby where your feet go is too small. Specific items of the soft product need work. The food offerings across the different aircraft types needs to be more standardized and in general, the food items need to be improved. With the other legacy U.S. carriers making sweeping changes to their international and domestic products, United is quickly falling to the rear of the pack.
I appreciate the United route network, the availability of reward seats, and plenty of lie-flat seats to longhaul destinations so I will continue to fly them when I can. I do want to see them work to continue making their inflight product much more attractive to business and leisure travelers.