On my recent flight between Washington-Dulles and Tokyo's Narita airport I encountered something that I do not completely understand. The flight arrives into Tokyo at 3:25pm, 13 hours after leaving Washington. About an hour and a half before arrival a meal is served. In business class it looks like this: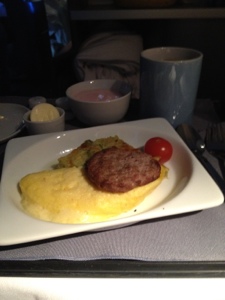 It's a not so appetizing breakfast (more on the not so appetizing part at a later date).
What I don't get is why United is serving breakfast for a middle of the day arrival. Sure, most people sleep for part of the flight, but I find breakfast when I'm arriving a few hours before dinner to be a bit odd. Even more strange is that Seth, who was on the same flight, said they received a noodle lunch dish in coach.
Any ideas on why United does this? Do other airlines serve breakfast on USA-Asia flights that arrive in the middle of the day?