My wife and I decided that a summer trip this year would be a bit of hassle with me starting a new job and her having to do a summer conference. Instead, we decided that a trip to Warsaw and eastern Germany before Christmas would be something that we'd both enjoy. After seeing pictures of German Christmas markets my wife was sold on the idea of spending more time in Germany.
So, I've started early on the search for reward tickets. Just before Christmas is not a heavy travel season to Europe so I figured I would find some availability but my first few searches came back with nothing. My goal was to go from Houston to either Los Angeles or San Francisco and then to Frankfurt, Munich, or Zurich from there. Why, you ask, would I want to fly from the west coast? More sleeping time, plain and simple. I was still having a hard time finding availability, with only Denver coming back with empty seats.
Then, Friday night, it happened. I went to continental.com and plugged in "MIA–WAW" and got back a bunch of neat routings, including First Class on Lufthansa's Airbus A380-800. The most interesting routing was Miami to Frankfurt to Kiev to Warsaw, but the connection time in Frankfurt had the potential for us to miss our flight to Kiev, especially in the winter. So, I ended up booking the one-way reward as Miami-Frankfurt-Bucharest-Warsaw.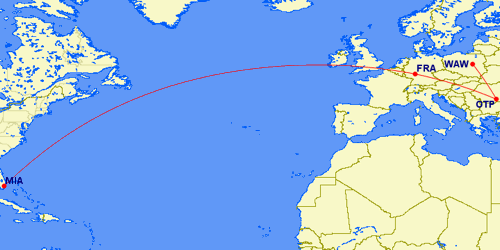 People may think I'm crazy to route the trip through Bucharest but I did not want to arrive too early into Warsaw and be stuck lugging our suitcases around the city in the snow. Now we'll get in at 3pm, perfect for checking straight into our hotel. Not to mention, I'll get a couple of neat new lines 😉
This is merely the beginning of planning this trip, I still need to get from Houston to Miami, as well as continue to monitor flights from the west coast as I would still prefer the longer flight, and finally, figure out our routing for the way home.
The big thing to look forward to is the First Class experience on the Lufthansa A380. I was lucky to grab the seats since Lufthansa has been holding them back for their own frequent flyers. I expect the service will be just as superb as our flight to Frankfurt from Houston last summer but the new suites will add a whole new level of awesomeness.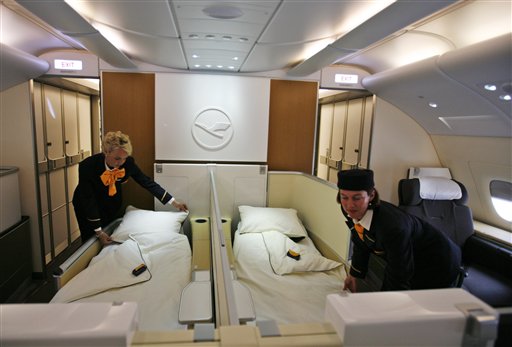 This is a trip I am really looking forward to, a new aircraft, a new airline (LOT Polish Airlines), and a few new lines. As I make changes and find the return routing, I'll make some new posts.